GRAMMY Music Education Coalition Teamed Up with Disney Pixar's Coco

On behalf of ELMA Music Foundation, Entertain Impact was a catalyst in identifying and creating Disney Pixar's Coco's social impact collaboration with the GRAMMY Music Education Coalition. As a first step in offering music education content on a national scale, the GRAMMY Music Education Coalition, its partners, and Disney Pixar bring the best-in-class music from film and learning content to teachers, students, schools, and youth around the U.S. via Berklee PULSE.
Read more about our social impact work with the GRAMMY Music Education Coalition and Disney Pixar's Coco here.
Industry Leaders and Music NGOs Unite as One in the GRAMMY Music Education Coalition
We are honored to have been co-architects and implementers in the creation of the GRAMMY Music Education Coalition on behalf of the ELMA Music Foundation. We will continue to work with the GRAMMY Music Coalition on marketing, communications, and outreach. The coalition announced its dedication to building universal music education participation in elementary and secondary schools nationwide on November 7. The needs-based approach will create systemic change, beginning in Nashville, NYC, and Philadelphia.
The non-profit collective is comprised of more than 30 of the nation's most forward-thinking music education organizations, including Berklee College of Music, ELMA Music Foundation, the National Association for Music Education, the NAMM Foundation (National Association of Music Merchants), VH1 Save the Music Foundation, Little Kids Rock, Lang Lang International Music Foundation, and many more.
Instagram Launches Content Advisory Page for Wild Animals Thanks to World Animal Protection's "Widen the Lens" Campaign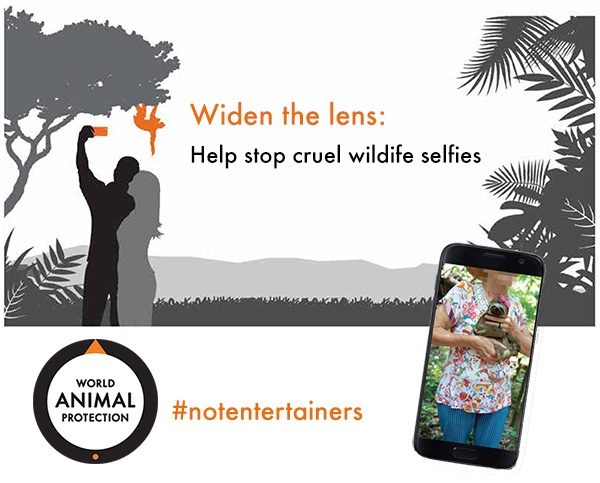 Active in 50 countries, World Animal Protection collaborates with national governments and the United Nations, seeking policy change to improve the lives of millions of animals. Entertain Impact secured U.S. and international influencer support for World Animal Protection's "Widen the Lens" campaign, which asks us to pull back and see the bigger picture behind wild animal selfies.
Amazonian animals are being torn from their natural habitats, stressed and in danger so that tourists can take selfies to post on social media. Over 255K supporters and influencers signed the Wildlife Selfie Code, a promise to take kinder wild animal selfies. The campaign exceeded the World Animal Protection's goals but the biggest takeaway is that as a result of this campaign, Instagram launched a new content advisory page on December 4th, educating users about the issues animal selfies cause for the animals.
Read more about Instagram's campaign to preserve wildlife here.
Matthew Koma Celebrates Body Confidence Day
The National Eating Disorders Association (NEDA) celebrated Body Confidence Day by discussing body positivity, diverse role models, and self-care techniques. Matthew Koma, an artist at RCA Records who is dedicated to raising awareness around eating disorders, served as a panelist, sharing his insights and personal experiences. Entertain Impact coordinated the connection.
Isabella Boylston on Practice, Confidence, and Why It's Okay to Fall
Isabella Boylston, principal dancer at the American Ballet Theatre whose philanthropic advising is handled by Entertain Impact, taught a master class to students during the National Dance Institute (NDI) Summer intensive. NDI provides a free arts education to children across NYC, many of whom are from low-income communities.
Want more frequent agency updates? Sign up for our newsletter here.
January 4, 2018