Stand with Frontline Chipotle Workers for Safe & Fair Work Conditions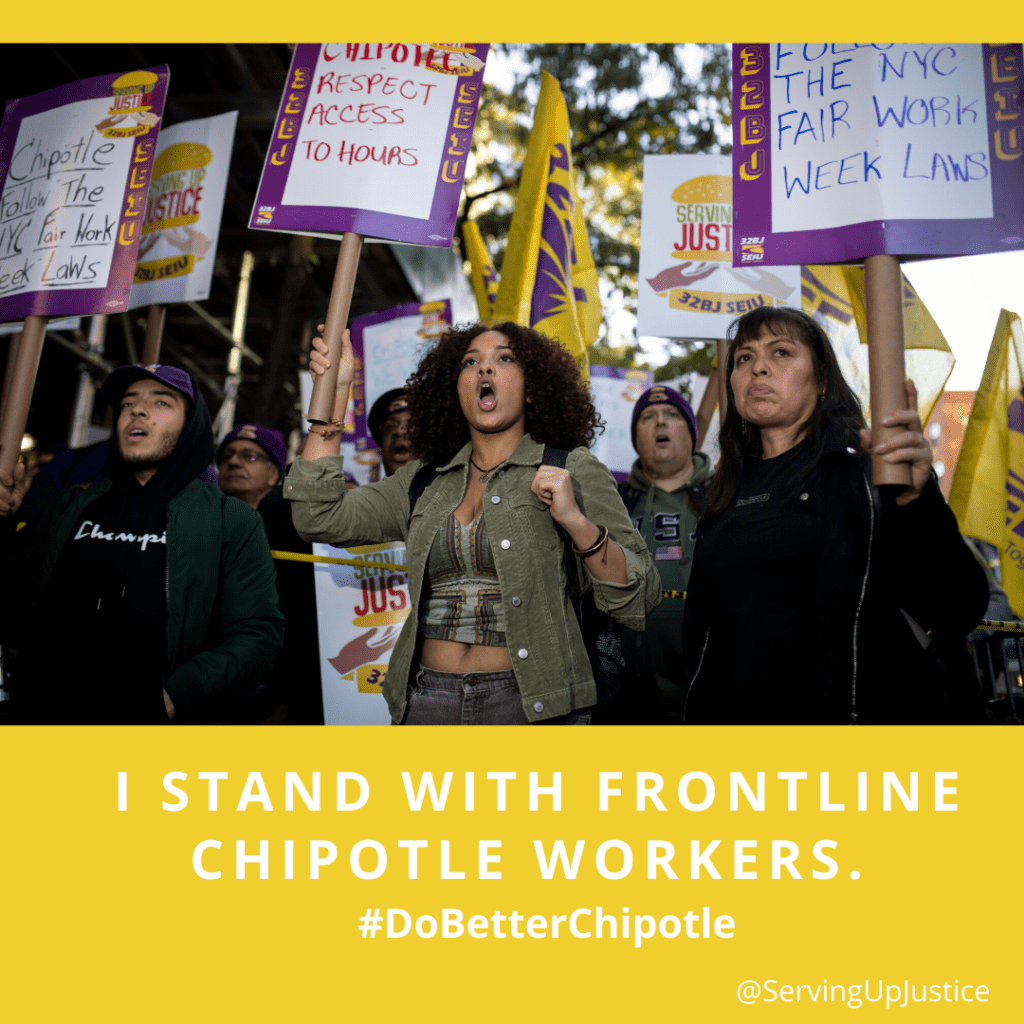 As a lead social impact agency, Entertain Impact has joined forces with the 32BJ SEIU to support Chipotle workers. The Chipotle workforce—the majority of whom are black and brown low-wage employees—have been fighting for the health and security of co-workers and customers, demanding an extension of hazard pay, which expired on June 7, the enforcement of social distancing and frequent hand washing practices, and reasonable scheduling notices, among other things.
To push these demands forward, the union has been strategizing for more than a year to develop a campaign and contacted Entertain Impact to help amplify their work. Stay tuned for more updates on this important campaign or, better yet, get involved here.
Learn more about our other social impact campaigns here.
Andra Day Gives Directly to Pandemic Relief
We often serve as a trusted partner to celebrities and public figures interested in doing good through their platforms and connect them with worthy causes. So, when we learned Andra Day wanted to help families hit hardest by the pandemic and support a related organization, we rolled up our sleeves. We helped match the GRAMMY nominee with GiveDirectly and aided in the creation of the #IGiveDirectly campaign.
#IGiveDirectly supports GiveDirectly's US Project100 to raise $100K in 100 days and the Africa Response Fund. The fundraiser has gained traction through support from Lin-Manuel Miranda and The Late Show with Stephen Colbert. Get involved yourself by donating here.
Supporting Pandemic Relief Organizations Worldwide
Entertain Impact is working closely with ELMA Philanthropies on COVID relief efforts around the world:
Oxygen For Africa: We are working with ELMA grantee ALIMA on their social impact campaign to bring oxygenators to Africa, where COVID-19 is spreading rapidly without the necessary medical equipment and health care personnel to treat patients. Through their campaign Oxygen for Africa, ALIMA is fundraising to bring 500 oxygen concentrators in the field. Learn more and donate here.
ELMA Music Foundation: The Music Foundation has made key emergency grants in response to COVID-19 in the US to support musicians, including MusiCares, the Jazz Foundation, the Music and Youth Development Alliance, and the GRAMMY Music Education Coalition.
Let's Talk Boyhood

Our partners, Promundo and the Kering Foundation recently released the report "Staying-at-Home with our Sons," summarizing the findings from a national survey of parents of boys ages 4-14 in the United States (U.S.) exploring what parents in the US want for their sons and their views toward gender norms and pressures, alongside findings from discussions with boys on the topic of masculinity. Based on research conducted by Perry Undem, this report provides new insights on how parents can support healthy, connected, and resilient behavior in their sons.
This report is the first in a series of new research and resources from the Global Boyhood Initiative, a project of Promundo and the Kering Foundation. You can learn more about the report's findings as well as the campaign in this Mashable writeup with Promundo President & CEO Gary Barker. Learn more about the Global Boyhood Initiative here.
June 22, 2020