DC statehood is one step closer to becoming a reality as Entertain Impact's DC for 51 advocacy campaign continues to gain momentum. On April 22, the House of Representatives passed HR 51, the Washington, DC Admission Act, in a 216 to 208 vote, led by Delegate Eleanor Holmes Norton as well as 216 co-sponsors.
The successful passing of HR 51 is a historic moment celebrated by all of us working on the DC for 51 campaign to mitigate the governmental oppression that DC's people have endured for generations. It marks a milestone in the continued push for increased voting rights and reduced racial inequality nationwide.
The DC for 51 Campaign for DC Statehood
As we illustrate in our DC Statehood issue profile, DC's lack of statehood is a voting rights issue, a social justice issue, and even a national health and safety issue. Without voting members of Congress or a Governor, 712,000 Americans living in the District are without representation. Still, they pay the highest federal taxes per capita in the nation. This is such an egregious infringement of civil rights that the UN Human Rights Committee has deemed it a violation of the International Covenant on Civil and Political Rights. That's why we launched the DC for 51 campaign: to, once and for all, right this historical injustice and persistent piece of systemic inequity that is rooted in, of all places, our own nation's capital. DC statehood needs to happen and the passing of HR 51 is an important step forward.
As a community that is 54% People of Color and 46% Black, denying DC statehood is systemic disenfranchisement that exacerbates the structural inequities already endured by people of color. Without adequate governmental representation, DC is left largely unprotected and with insufficient resources. This has impacted the community enormously in the past year alone: from limited COVID-19 vaccines to the horrors of the January 6th insurrection.
Using Cause Influence to Generate Systemic Change
At Entertain Impact, we strongly believe that DC statehood is a critically important issue that deserves our collective attention and action. We launched the DC for 51 advocacy campaign soon after the 2020 election with an aim to educate Americans on the key points of the issue and encourage them to ask their senators to join in support.
Beyond an advocacy campaign, though, DC for 51 is a cause influence campaign. The fundamental belief that guides Entertain Impact's approach to every campaign is that systemic change is a result of cultural change. Policymakers act in response to pressure from constituents and cultural moments that arise from widespread conversations. But to change the culture, you need the power and influence of cultural leaders. Which is why cause influence is deeply integrated into the DC for 51 campaign.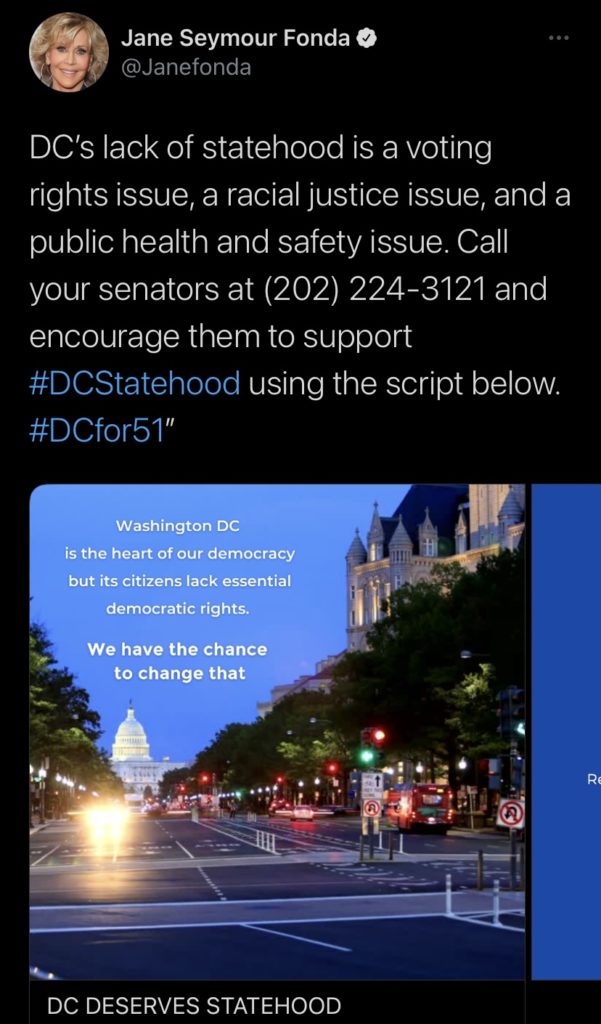 With support from cultural leaders and influencers, including Jane Fonda, Dr. Bernice King, and DC-native Tim Gunn, #DCfor51 has reached more than 2.2 million people in a short period of time and despite major attention-grabbing news events, like the insurrection, pandemic, and ongoing instances of police brutality and murder.
Using cause influence, through the power and platforms of celebrities and influencers, we were able to cut through and elevate our important messages. #DCfor51 received more than 15K likes and retweets and was further amplified by other influential organizations in the space, such as Vote.org and Indivisible. More importantly, we've identified nearly 100 new advocates in less than two months.
The Path Forward: Share #DCfor51 and Join the DC Statehood Movement
But we've still got a long way to go. As we celebrate the House's passage of HR 51, we look ahead to the future of this legislation. In the Senate, its fate is far less certain. While the House was able to proceed with a simple majority, if the Senate's current filibuster rules remain in place, it will require a 60-40 split to end debate and bring the bill to a vote.
The filibuster is a frequent point of contention in politics. Abolishing it benefits the party in power and, as that changes, so does support for the measure. Right now, a large swath of Democratic senators support curtailing or outright abolishing the filibuster because its current state of existence critically reduces the chance of success for voting rights and democratic reform bills, including the Washington, DC Admission Act. However, there are a few moderate Democrats withholding support for such a move.
As part of the DC for 51 campaign, we're organizing meetings between those Democratic holdouts and prominent DC statehood advocates, including those we recently identified, to urge Democrats to support DC residents' fight for full representation. By showing these senators the strength of support for DC statehood and further elevating the cultural conversation around this important issue, we believe we can create a path forward for DC statehood in the Senate. As we work alongside brilliant community leaders and engage in conversations with advocates across the country, we see the potential to generate change through the power of our collective efforts. We encourage you to join us in championing this cause and working to create a democracy that equally serves all Americans. For the people of DC, it's long overdue.
To stay up to date on the latest from Entertain Impact, subscribe to receive our emails and follow us on social media.
SIMILAR BLOGS: