If your brand is on Instagram, chances are you're spending a lot of time creating content. Despite your best efforts at making each post engaging, the reality is that most of it will only be seen shortly after it's first posted. After a few hours, your amazing creations will be forgotten, pushed too many scrolls too deep to be within reach of your audience (?). Knowing this, we're always looking for ways to reshare posts and repurpose content. Enter Instagram Guides.
Break Down Complex Messages by Resharing Posts and Repurposing Content on Guides
Although Instagram Guides weren't created specifically for non-profits, they're well-suited for the deeper, informative messages that purpose-driven communicators deliver to their audiences (Guides were rolled out in 2020 as a vehicle for aggregating and presenting wellness content).
Described as "a way to more easily discover recommendations, tips, and other content from your favorite creators, public figures, organizations, and publishers on Instagram," Instagram Guides are a curated collection of Instagram posts designed to share information about a specific topic or category.
For non-profit organizations trying to inform audiences about a particular issue or area of work, Instagram Guides can be an effective tool for breaking up complex messages and stories into smaller, easily digestible pieces without compromising the core message or oversimplifying things. Guides are also an easy way to reshare posts and repurpose content in a fresh, visually compelling format.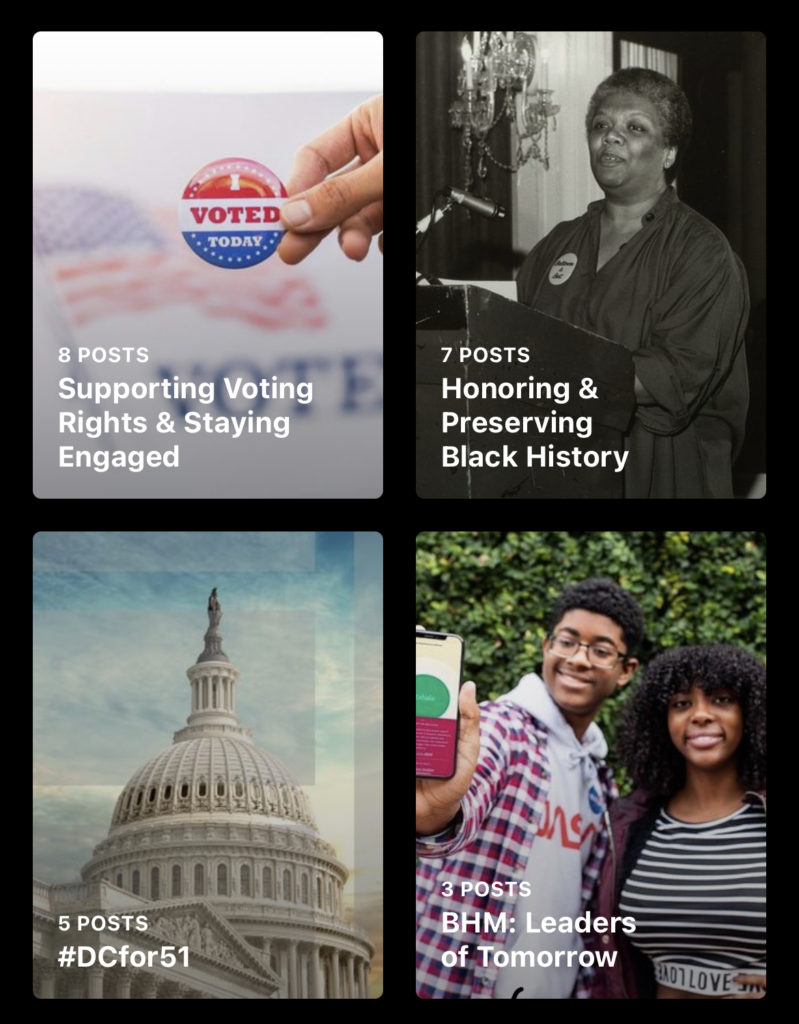 Why Aren't More Non-Profits Taking Advantage Of Instagram Guides?
When reviewing the Instagram accounts of the top 10 US charities, we were shocked to learn that only one has taken advantage of Instagram Guides. We followed up with a few purpose-driven communications managers to ask why they haven't explored the feature. Here are a few anonymized responses:
"Honestly, I can barely keep up with all the product rollouts on Instagram lately."
"Our team talked about it, but we weren't sure if it made sense for us…like, how we could really use it effectively or if it was worth the time."
"It felt more like something online shops or influencers would use."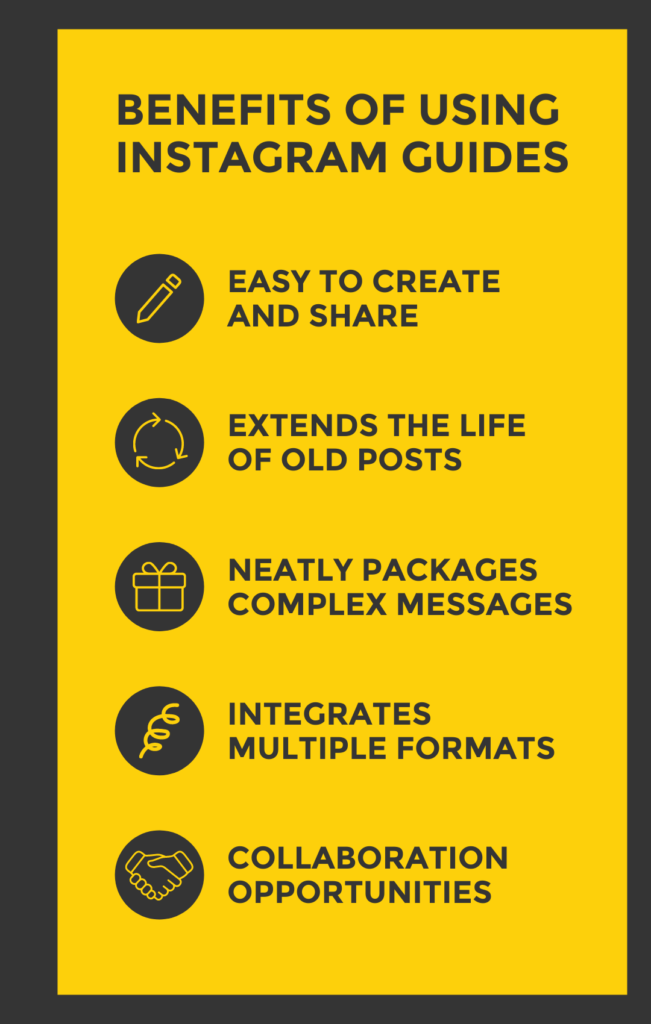 5 Benefits of Instagram Guides that Many Non-Profits Are Missing
1. Easy to Create
Creating an Instagram Guide is almost effortless. Your Instagram Guide is made up of reshared posts and repurposed content—stuff you already created anyway.
2. Extends the Life of Your Content
Instagram Guides extend the life of your content, increasing your reach and effectiveness without taking up more time.
3. Packages Complex Messages and Long-Form Content
Guides are a great way of packaging organizational messages, services, calls-to-action, and impact by key themes or areas of work.
4. Flexible
Guides comprise a mix of stats, graphics, text- and image-based posts, and videos that you can continually update as situations arise and dynamics evolve.
5. Collaboration & Co-Signing Opportunities
Instagram Guides can feature content from other accounts (partners, thought-leaders, activists) who've posted on your topic. Here's an example of a Guide about Black historic preservation that integrates posts from multiple accounts.
In our view, Instagram Guides offer brands—especially purpose-driven communications leaders with important stories to tell—a tremendous opportunity to reshare posts and repurpose content in a way that not only extends the life of their existing materials but also packages things up in audience-friendly formats.
Here are a few examples of non-profits making the most of Instagram Guides to present their organizational story, share topic-based updates, educate audiences, and answer frequently asked questions.
The Young Writers Initiative (TYWI) Creates an Instagram Guide to Tell its Story
The Young Writers Initiative (TYWI), a non-profit that supports young writers and artists, created an Instagram Guide to introduce people to its work. The non-profit's communications team aggregated a series of repurposed posts that, together, tell the organization's story. The Young Writers Initiative's "About TYWI" Instagram Guide includes posts that articulate the non-profit's mission, share news about its mentorship programs, showcase team members, and highlight key accomplishments in year one. The simple five-post Guide provides enough information to give readers a sense of TYWI's work while leading them to want to learn more.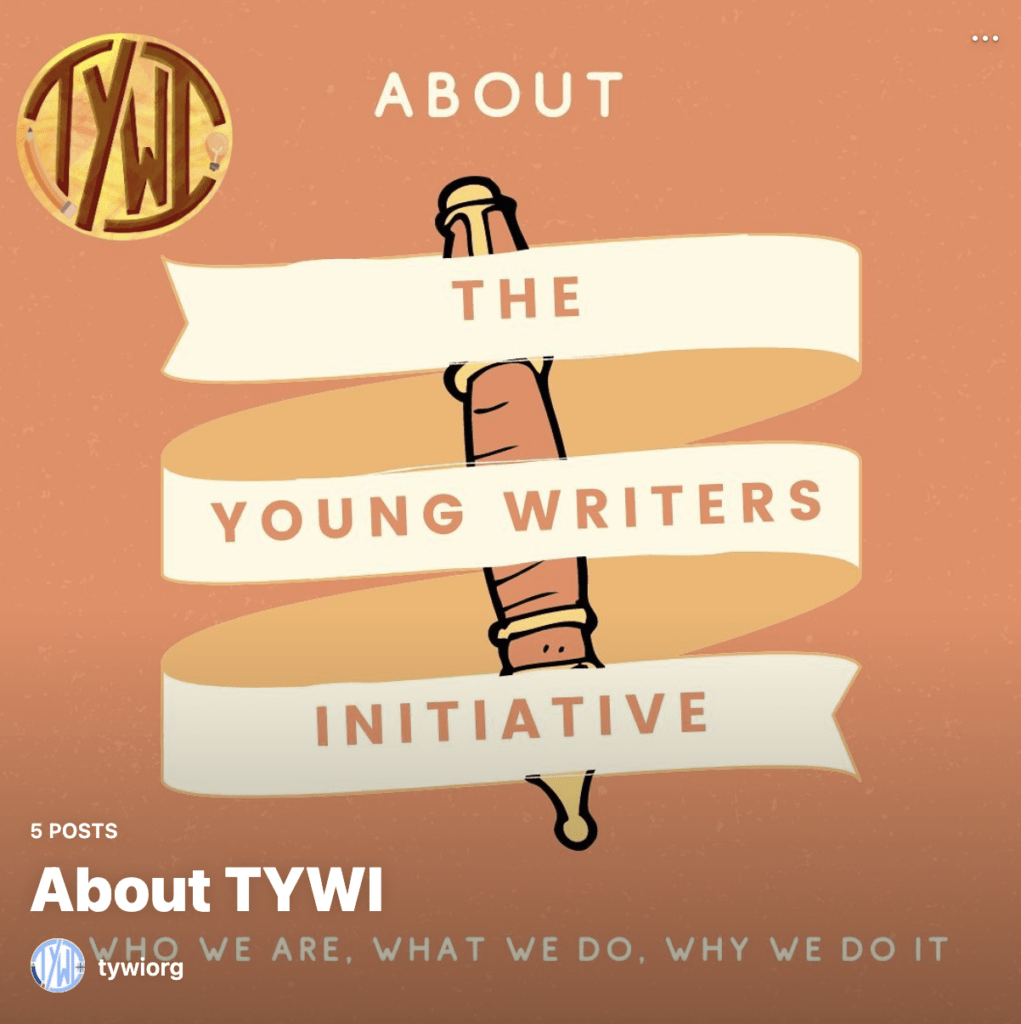 Post Ideas for Using Instagram Guides to Tell your Non-Profit's Story:
Content featuring your team
Pictures of your non-profit at work
Blogs about specific programs and areas of service
Stats and facts that educate people about your issue space
Quotes that align with your non-profit's mission and values
Pro Tip: If your story is evolving, add posts to your Instagram Guide anytime after publishing it to keep things fresh and up to date.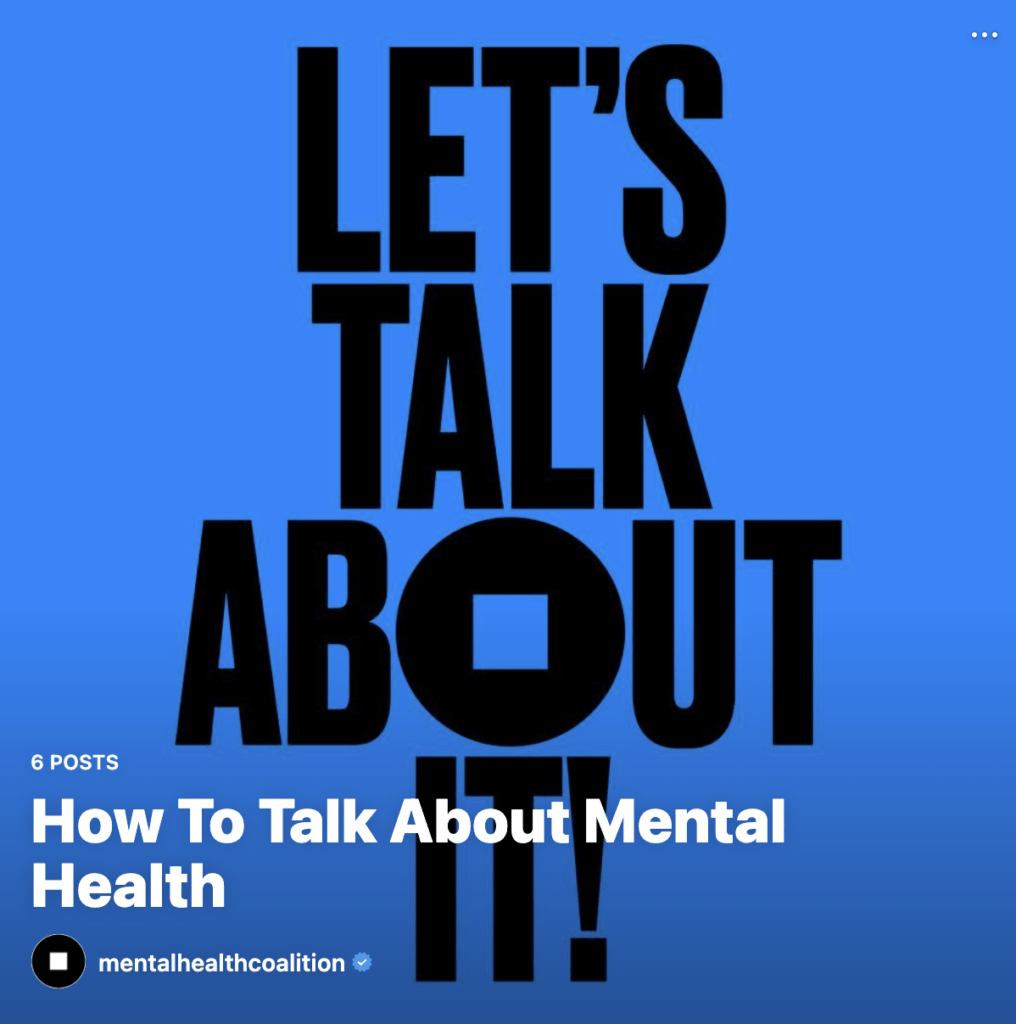 The Mental Health Coalition Uses Instagram Guides to Share Information and Resources
If you want to educate audiences or encourage them to action, creating a how-to Instagram Guide is a great option for resharing and repurposing posts. Perhaps you want to inform people how they can register to vote or offer tips on healthy eating. Whatever your mission, think about the kinds of resources your audience needs, scan through your old posts, and then compile all the relevant content into your very own How-To Instagram Guide. Take a look at what like-minded organizations or thought leaders in your cause area have shared and consider resharing their posts as part of your Guide.
Once you've created your Instagram Guide, publish it in an Instagram Story or DM it to individual accounts.
A good example is a Guide created by the Mental Health Coalition, which outlines simple ways you can talk about mental health in an easy-to-read, colorful presentation. The Mental Health Coalition's How-To Instagram Guide incorporates bright sharable graphics with short titles and succinct descriptions to help disseminate the non-profit's message. Rather than include a lot of detail in the posts, the non-profit's communications team writes short captions to inform people reading the Mental Health Coalition's conversational guide.
Content Inspiration for an Informative How-To Guide Using Instagram Guides:
Use how-to graphics and carousels
Feature listicle-style graphics that work as individual posts or as part of a broader story
Offer tips relevant to your work
Feature your organization's resource blogs
Include instructional Reels
Pro Tip: If there is a partner organization or thought leader sharing resources relevant to your Instagram Guide's topic, consider including those posts. Not only will you create a more informative Guide, but you'll also engage a relevant account that might be willing to reshare it.
When We All Vote Uses Instagram Guides to Answer Common Questions
If you receive lots of questions or need to educate people about your cause space, it may be worthwhile to create an Instagram Guide that compiles all the necessary information in a single spot. Similar to a Guide that shares information and resources, an FAQ Guide is a great way to educate your audience while maximizing the reach of your content.
Are people asking where to find volunteer opportunities? Perhaps they're curious about a program. Even if you aren't getting multiple DMs asking the same questions, it's likely there are topics you can address in a focused Guide.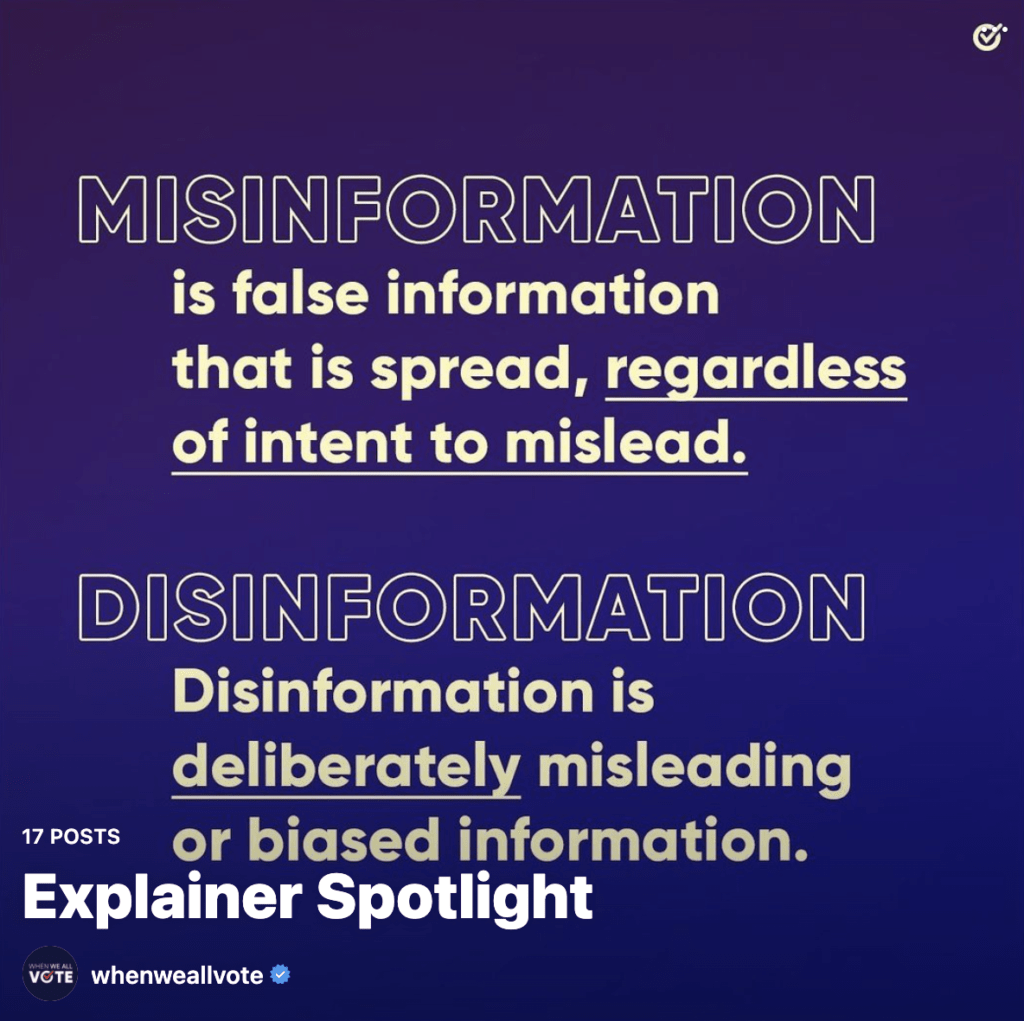 When We All Vote, a non-profit focused on voter participation, does a great job answering questions about U.S. policies and procedures in an extensive "Explainer" Guide. Unlike the Mental Health Coalition, which uses informative captions to complement its posts, When We All Vote's Instagram Guide lets its graphics do almost all of the heavy lifting.
Getting Started on an FAQ or Explainer Guide
Come up with a list of questions you want to answer or points you want to address. Chances are, you've posted about these issues before. Now, pull those posts into a Guide. If you've only addressed these issues in a blog or via email, create simple Q&A or Did You Know graphics that you can share and then repost into your Guide, like When We All Vote does.
Once you create your FAQ Instagram Guide, share it each time you receive a DM asking one of the featured questions, whenever your issue hits the news, or at critical junctures in your communications campaigns.
Commonly asked client questions about social media prompted us to create this Instagram Guide featuring all our posts on the topic. It's been an easy way to organize and share content with audiences who find it relevant.
Pro Tip: Make sure to keep your FAQ or Explainer Guides updated if any changes in information occur so that you're sharing the most up-to-date messaging with your audience.
Don't Wait to Make the Most out of Your Content
There are many ways non-profits can benefit from creating Instagram Guides. They're a great way to repurpose and reshare posts while staying fresh. Whether you're showcasing your expertise, curating posts to share resources, answering common questions, or looking for ways to collaborate with other accounts, Instagram Guides can help you maximize your content in a unique, creative way.
This article was written by Neda Azarfar and Gina Graves.
To stay up to date on the latest from Entertain Impact, subscribe to receive our emails and follow us on social media.
SIMILAR BLOGS: