On December 9th, 2016, Amp Up NYC, a joint effort from Berklee College of Music, Little Kids Rock, and the NYC DOE, partnered with the New York Daily News to bring GRAMMY® award-winning singer-songwriter, rapper, and record producer Pharrell Williams to surprise the students of TEP Charter School at their school concert.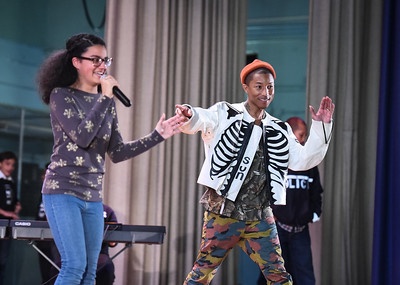 Pharrell Williams' visit brings praise to the Amp Up NYC collaboration's success in bringing modern band music education to more than 67,000 students from nearly 600 NYC area public schools, like TEP, annually since 2014.
Student musicians spent weeks rehearsing "I See A Victory" and "Runnin," two songs Williams produced for the film Hidden Figures, set for release on December 25, 2016. Their hard work paid off as he joined them on stage to an eruption of applause from the amazed assembly-goers. The Amp Up NYC student performers shed a few tears as they took in the moment, then like true artists, continued their set under the approving gaze of the song's composer. Williams was speechless hearing the kids perform the new songs live for the first time and praised their incredible talent.
About Amp Up NYC
Amp Up NYC is a music education initiative formed in partnership between Berklee College of Music, Little Kids Rock, and the New York City Department of Education to establish youth-centered, culturally relevant modern band music programs. Modern band focuses on teaching students to perform, compose, and connect to culturally relevant, youth-centered musical genres using guitar, bass, keyboard, drums, vocals, and computers.
Established in 2014, Amp Up NYC's programming now reaches more than 67,000 students from nearly 600 area schools annually with music education rooted in the popular genres they know and love. Amp Up NYC represents the largest private investment in public school music education in the history of the United States.
Read about our cause entertainment work for clients here.
Featured image via Little Kids Rock
Originally posted Dec. 14, 2016