Entertain Impact has been a proud partner of award-winning nonprofit, Year Up. Year Up works to close the opportunity divide among 18 to 25-year-olds by providing low-income individuals with the skills, experience, and support that will empower them to reach their potential through professional careers and higher education. Over the course of our partnership, we engaged celebrities DeMar DeRozan and Daymond John to support Year Up.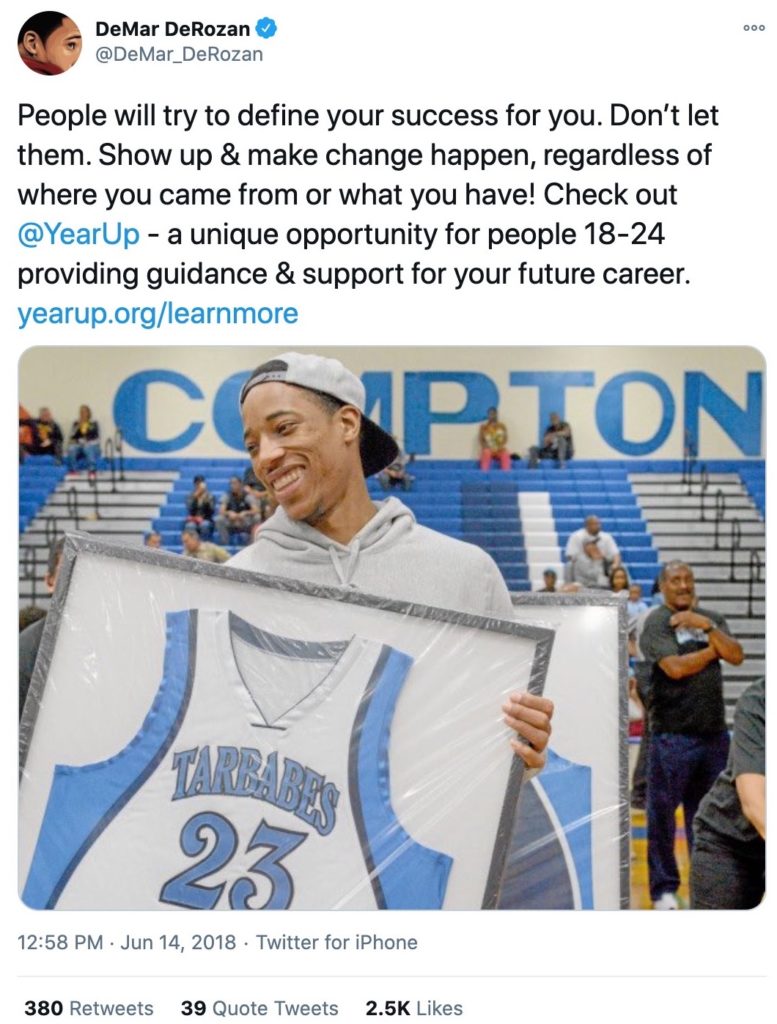 Four-time NBA All-Star and two-time All-NBA team member, DeMar DeRozan, provided social media support around the launch of Year Up Los Angeles, sharing a photo of him in his high school gym in Compton. Shaquille O'Neal also supported the organization on social media.
We also engaged American businessman, investor, and television personality, Daymond John, to visit Year Up's Los Angeles location on February 11. John met with the incoming Year Up class with a motivational speech and Q&A. His speech focused on his rags-to-riches success story to inspire the students to pursue their dreams through sacrifice, hard work, and perseverance. He also shared his unique goal setting and achieving strategies to help empower students to make positive changes in every aspect of their lives for immediate and long-term success.
John's visit was part of ongoing promotion around his album, "Shark Motivation," a motivational album to inspire entrepreneurs and rising leaders like Year Up's young adults. According to John, "Your goals, passions, and successes are based on your drive, hustle, and patience. The album aims to motivate your heart and mind to remain driven even when you're detoured." Read more about his visit here.
Located on the campus of West Los Angeles College, Year Up Los Angeles provides motivated young adults with in-demand technical and professional skills training, college credits and internships at top companies in Southern California. The program is free for participants and includes a weekly financial stipend, as well as full access to college resources.
For more examples of our client work, see here.
Originally posted February 11, 2019