Over the past 10 years, Instagram has become the dominant marketing platform used by organizations to connect directly with audiences. Back when it launched in 2010, it was a visual-first platform that democratized photography. At that time, captions (or any copy-based communications, for that matter) weren't as important. It was more about telling your story through DIY images. Since then, the platform has evolved with new trends (foodies, flatlays, travel) and features (Stories, Live, Reels, Stickers) that can be used to reach and engage new donor audiences.
With all the changes, keeping up can feel overwhelming. We all have that lingering question in our minds, "Am I using Instagram correctly? Am I making the most of what the platform has to offer?"
Before we get to that, I want to hit on the most important part of your Instagram strategy: Nailing down your story. Because, regardless of the platform you're on or the tool you're using, the one true constant that determines whether your social impact or donation campaign is compelling (or not) is your story. Sharing stories that describe who you are, demonstrate how you fulfill your mission, and explain why that work is so important—that's your magic sauce.
Having said that, the focus of this post is to break down the various Instagram features available to you to get you thinking about how might be able to explore and test out new ways to engage with your donors on Instagram.
We'll start with Instagram Stories' Stickers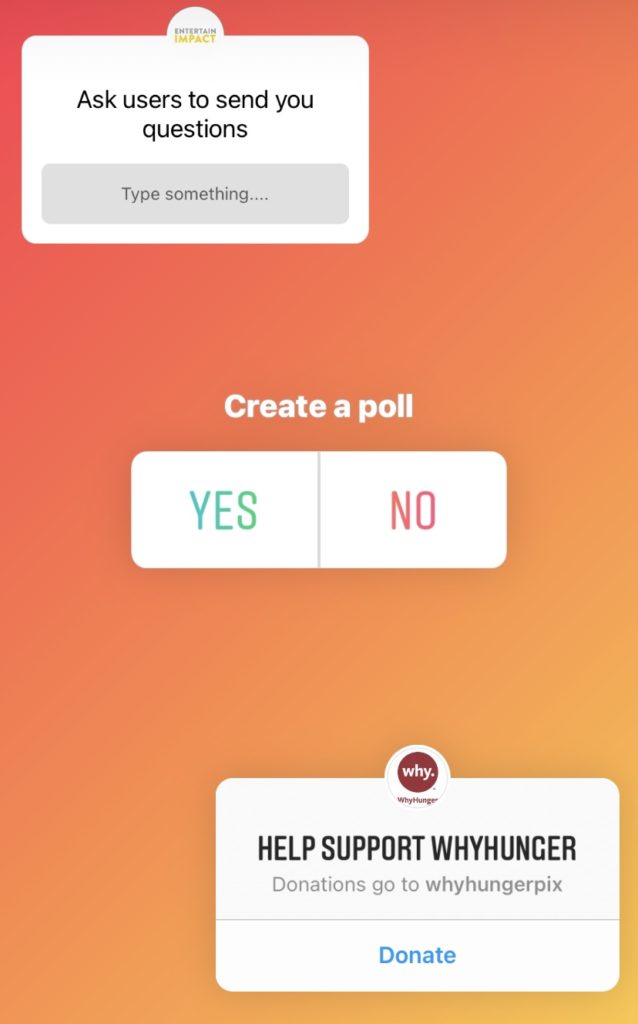 Instagram Stories is one of the most popular features of the platform. You're probably familiar with this feature, but there's a chance you're not taking advantage of all the different tools available within it. Case in point: Stickers, which you can add to your stories to make them more engaging. First, you should know that there are several types of stickers. Find them by clicking on the smiling square button within Instagram Stories.
There are a few Instagram Stories' Stickers I want to encourage you to explore:
Polls: You can use the polls sticker to ask your audience which issues they're most passionate about. Either/or questions aren't just super easy for audiences to engage with, they can also be incredibly informative for your non-profit marketing team. For example, you might want to ask your supporters, "How would you like to hear from us: Email or Social Media?" You could also ask about donation preferences. For instance, "What's the most meaningful way to connect with our cause: Sponsor a family or Donate monthly?"
Questions: Think about using this sticker when you want to host a Q&A with your executive director or program manager. This is a great way to provide transparency and cultivate deeper levels of engagement with donors by offering real human-to-human interaction.
Donate: We saved the most obvious sticker for last. Clearly, non-profit marketing teams will want to consider the donate sticker. Before you do, however, make sure to get your organization set up on Instagram so that it's easy for your supporters to donate directly within the platform. Once you've done that, start using the sticker to encourage your audience to give to your cause. This is a great tool to utilize throughout the year, but especially during key fundraising periods, like Giving Tuesday.
Have you explored Reels yet?
Instagram Reels is a new feature that was rolled out in direct response to the popularity of TikTok. Basically, it's a vehicle for short-form video content.
If you're thinking that Reels sound a bit like Stories, you're right. From a product perspective, these tools are very similar with one notable exception, which we'll get to in a minute.
From a storytelling perspective, however, Reels tend to be used differently. To put it plainly, Reels are generally more fun, even whimsical. If you're interested in pushing the boundaries of your communications, play with this feature. Your audience's response may surprise you.
When you think of creating content for Reels, think of it the same way you would approach creating a listicle for a blog: your content should be easy to consume, straightforward, and very digestible. See here, how Pencils of Promise used Instagram Reels to share information about their virtual gala.
Going back to that product distinction I mentioned earlier…unlike Instagram Stories, which are set to disappear after 24 hours, Instagram Reels can be posted directly to your newsfeed, providing non-profit marketers the opportunity to reach a broader audience with their social impact campaign.
Consider using Instagram Live as part of your next social impact campaign
Instagram Live is another great way to connect and interact with your supporters. While the real time nature of Instagram Live creates urgency, the fact that you can integrate that content into IGTV makes the tool even better.
If you haven't already tried Instagram Live, an easy place to start could be with your own team. You can develop a consistent cadence simply by highlighting your staff—maybe even your volunteers—to help humanize your organization and demonstrate your good work and genuine commitment to the cause.
Another idea is to produce Instagram Lives with partner organizations or subject matter experts in the space. Your donors have already demonstrated interest in your cause simply by virtue of their donation. Continue to engage donors with the type of content that might cultivate an even deeper connection to your organization and mission. See here, how She's The First co-founder, Christen Brandt, utilized Instagram Live to share more information about a real-time response to the Trump administration's asylum seeking measures.
Extend the reach and life of your story using IGTV
Like I mentioned above, you can share your Instagram Live content to IGTV to extend the reach and life of your video. Whether you start with an Instagram Live, a compilation of videos pulled from your YouTube channel, or a video made specifically to engage donors around your fundraising gala, IGTV is a great storytelling tool for non-profit marketers, especially when your social impact story is longer than 60 seconds.
With so many Instagram features geared toward sharing 15-60-second snippets, IGTV is perfect for long-form video content, offering non-profit marketers the opportunity to share up to 60 minutes' worth of content. That's a lot of story! See here, how the Obama Foundation used IGTV to tell the story of William Calloway, a Chicago Community Activist, and how he brought hope and inspiration to his community.
Take a breath, take it slow, and have fun testing these new tools
There are many opportunities to continue to explore and expand your social impact storytelling on Instagram. But don't overwhelm yourself thinking of all the different ways you could or should engage donors. Play with one tool each week and see how it goes. See how your audience responds. If it works well, double down on that type of content and use it more often. Take it slow and grow from there.
This article was written by Lindsay Williams.
For more on engaging donors via Instagram, check out Lindsay's post, 3 Ways to Inspire Donors to Spread Your Message.
To stay up to date on the latest from Entertain Impact, subscribe to receive our emails and follow us on social media: