For non-profit marketers, there's nothing more powerful than having donors spread your message to their communities. When donors are passionate about a cause, they tell their friends and family about it. With today's emphasis on visual storytelling, providing donors visual content they want to share is key to turning supporters into evangelists.
For every share on social media, a peer-to-peer fundraising campaign raises an average of $13 USD (CrowdRise, 2017). So it's absolutely crucial that non-profit marketers make it as easy as possible for donors to get the organization's messages out there. To do that, non-profit marketers must identify the right time, the right platforms, and the right content.
Here are three different ways non-profit marketers can inspire donors to engage and help spread their social impact messages.
Informational Instagram Carousel Content
Between election season and the ongoing reckoning on racial injustice in the US, there's a lot of information going around. People on social media have found creative ways to share informative content on dense topics without overwhelming their friends and followers. There are some valuable lessons to note for any non-profit marketer.
Instagram's Carousel feature offers the ability to upload multiple images. This means that followers can swipe through to read and view more in one post. More brands, organizations, and individuals are creating content that presents their respective audiences with highly engaging educational material formatted in a way that's easily digestible.
The Carousel also provides an opportunity for people to share the type of content typically presented in list form. For example, the National Book Foundation recently used this feature to share book recommendations around a specific theme.
Shareable Assets in Email
You, as a non-profit marketer, already know that your email list represents your most engaged group of donors. So it makes sense to include assets in each email that your subscribers can easily download and share.
The newsletter, Anti-Racism Daily, does a great job of including topical assets that correspond to each of their emails. Their subscribers first read to learn about the topic of the day. Then, as they scroll down, they're able to download and share relevant graphics provided in the email. The Anti-Racism Daily folks make this all very easy by dedicating an entire section to their call to action, "Share The Issue." But it's not just that call to action is hard to miss, it's also easy to do. People are more likely to share the information because it's already been created for them. It doesn't get much easier than that.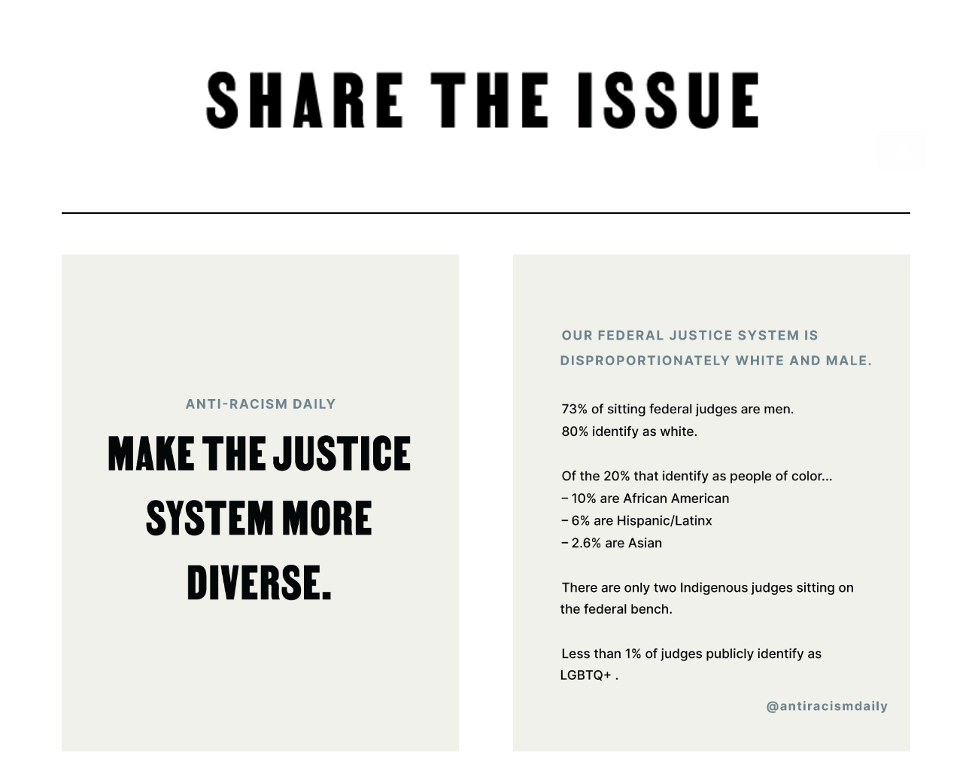 Downloadable Assets With Donation Thank You Message
The absolute best moment to capitalize on your donors' excitement is during the donation process itself. Think about it: this is when people are the most passionate about your organization. You probably already have a Thank You page or follow-up Thank You email that gets sent out after the donation process is complete.
As part of your standard post-donation message of gratitude, you should incorporate sharable graphics that include affirmative messaging about the action that your donor just took. For example, you can create a graphic that says, "I am a proud donor of XX organization." Or you can create graphics that provide facts about your non-profit, like, "Did you know XX? That is why I support YY."
Here's an example of Accion's Thank You page. They provide shareable buttons to spread their messages immediately after the donation process.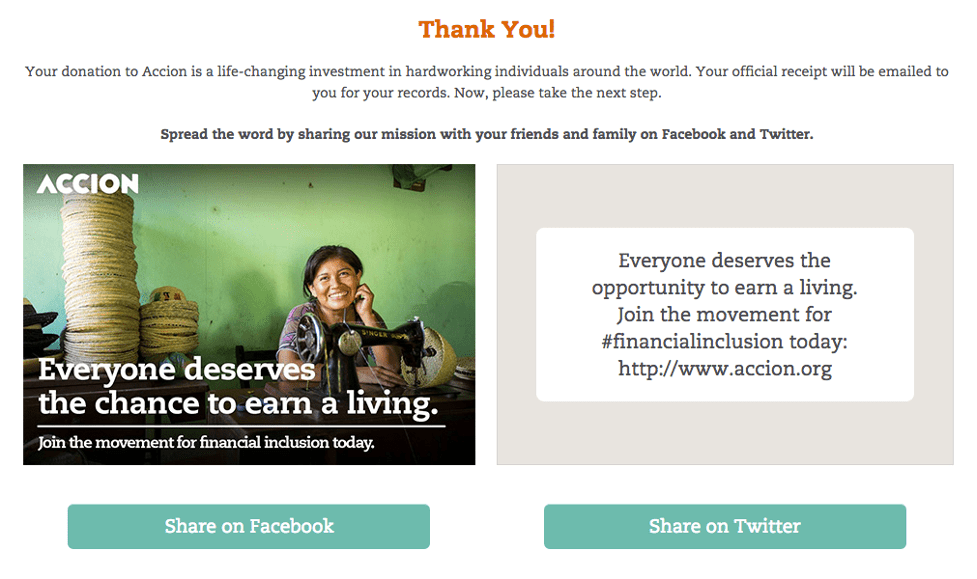 Don't Forget to Say Please and Thank You
Regardless of which content approach you take for your next social impact campaign, the thing non-profit marketers need to remember is to say please and thank you.
That means never be afraid to ask your audience to please share. Whether it's a statement as simple as, "Share if you agree," or "Don't forget to share the graphics below to your social channels," or even "Share this message to tell more people about our work." It never hurts to ask. In fact, explicitly asking your audience to share increases engagement significantly.
It also means that, when your donors do end up sharing your message, make sure to respond and thank them for taking that action. They just helped you spread your message. Make sure your social media team is taking the time to thank them for that.
As you continue to build out your content, always ask yourself how you can make it easier for your donors to spread your message, and then make sure to include that in your donor journey workflow.
This article was written by Lindsay Williams.
For more on how you can use social media to engage donors, How to Use Instagram to Engage Donors.
To stay up to date on the latest from Entertain Impact, subscribe to receive our emails and follow us on social media
SIMILAR BLOGS: