It's no secret that the world of philanthropy has traditionally been old, male, and white. But recent years have seen a welcome shift toward greater inclusivity and representation, especially as it relates to women. In honor of Women's History Month, Entertain Impact is spotlighting a few female leaders who are changing the face of the non-profit space. Meet Stacy Huston (Executive Director, SixDegrees), Julia Bey Ahmet (Managing Director/COO, Jeff Sobel Consulting), Charlie Kunzer (Executive Director, ALIMA US), and Asli Ozguz (Assistant Development Director, Easterseals Southern California). More importantly, read their stories as told in their own words.
How does your perspective as a woman shape your day-to-day philanthropy work?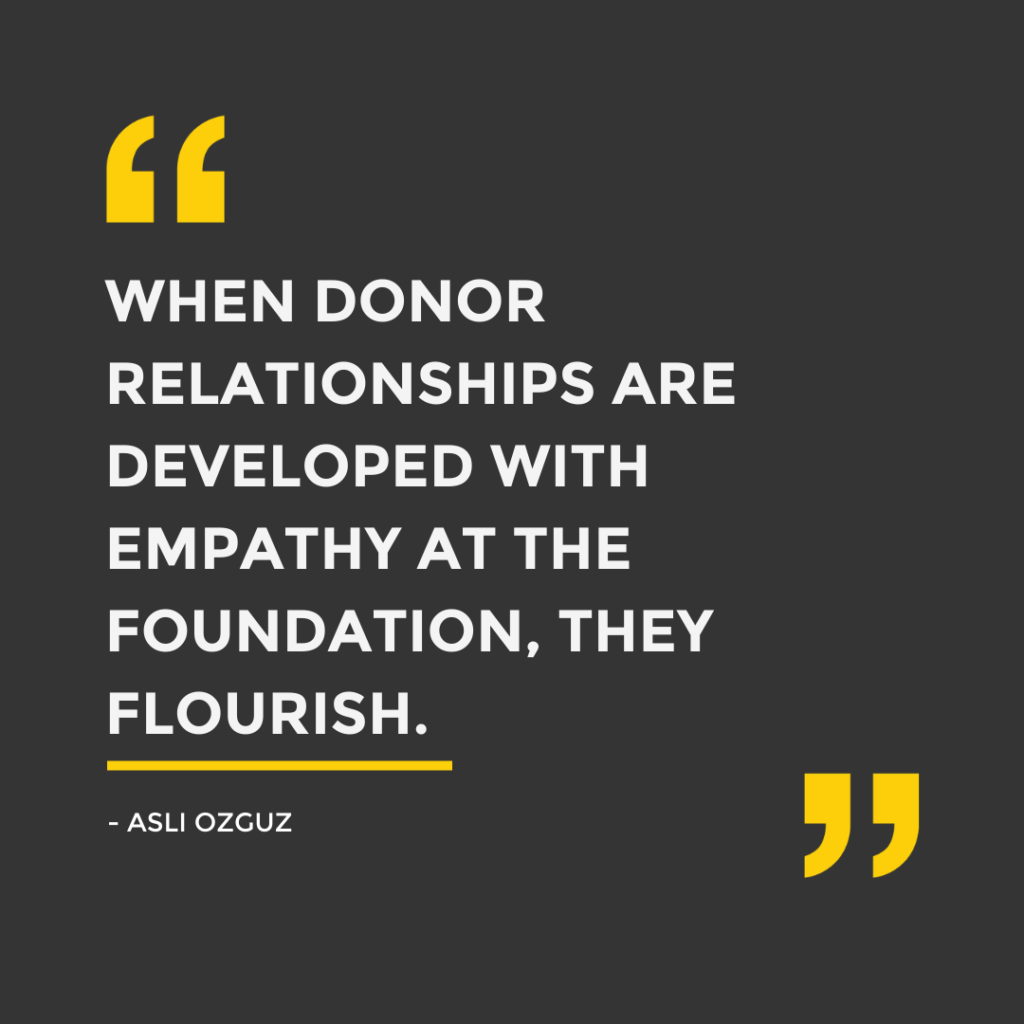 Asli Ozguz:
As women, we're encouraged to downplay our "female traits," especially in our professional lives. But what I've learned is that these characteristics are actually strengths. Traits like empathy are ones I use in every facet of my development work. Over the years, I've established my own donor-centered cultivation style, which not only yields better fundraising results, but also nourishes my soul. Whether I'm personally thanking donors for their support, making sure donors have my personal information on hand in case they need to reach out with any questions, or asking about people's lives and offering a listening ear.
I look at donors, coworkers, partners…as fully formed, dynamic, 360-degree people. Meaning, I try not to flatten them into a single aspect of their identity—even if that part of their identity is how I happen to be relating to them in my capacity as a development officer. For me, empathy is a critical starting point to cultivating any relationship, personal and professional alike. That point of view is most definitely informed by my values, which are, in turn, informed by my gender and experience as a woman. And it just works! Understanding people's stories and backgrounds, including their motivations in philanthropy, is important to me and necessary for my work. When donor relationships are developed with empathy at the foundation, they flourish both in terms of longevity and value. It's also just more enjoyable.
Charlie Kunzer:
I believe it shapes everything I do. In decision-making, both in crisis and just managing day to day, my female perspective and experience in this field colors my decisions and leadership. I feel very strongly about supporting and lifting up younger female staff. The workplaces where I worked with strong female leaders who made it a point to support, mentor, encourage, and lift their female colleagues, made an enormous difference. It really does filter down to the whole office with good energy, positivity, creativity, and ultimately in my case, set me on the course which led me here.
Only 21% of large non-profit CEOs are women. Just 7.5% of all non-profit executive staff and 14% of non-profit boards are women of color (source). Women in non-profits make 33% less than their male counterparts. Why do you think that is?
Stacy Huston:
It is a top-down approach. Leadership is a reflection of the board room. If an organization is not actively working to diversify its leadership in order to include nuanced voices and perspectives, then that which they value is being made apparent. Too often, companies that claim diversity and inclusion are seeing their employees of color at lower levels.
If you serve marginalized communities or communities of color as an organization, at a bare minimum, your organization's leadership should look like the people you serve. We can't state that we know what's best for another group of people when we do not have any leadership with firsthand knowledge sitting at the table with us.

What barriers have you needed to overcome in navigating the non-profit space as a woman?
Charlie Kunzer:
Especially in the early days, I was too accepting of the environment around me. It took a change in the dialogue across the field and people speaking up and pushing the needle on workplace equality for change to occur. I thank my fellow female colleagues for raising their voices, not accepting the status quo, and pushing for change. That has been so inspiring to me. But there is still a way to go. We are not there yet, and there is plenty more work to do on this.
What can be done to address underrepresentation in the philanthropic sector?
Stacy Huston:
As individuals, we need to demand transparency and accountability from these organizations. I encourage people to peel back the curtain when looking for partners, companies, vendors, and charitable partners to support. Inquire about the demographics on their board of directors and their executive leadership team. Then ask yourself if you are willing to continue to perpetuate a system that rewards those that are not taking active steps to do better. This will require structural changes like term limits, strategic recruitment efforts, increased mentorship, public commitments, and the normalization of having uncomfortable conversations.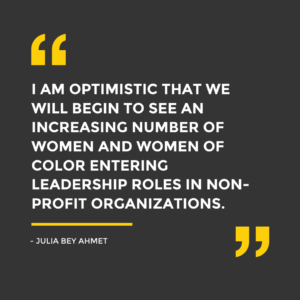 Julia Bey Ahmet:
I am optimistic that we will begin to see an increasing number of women and women of color entering leadership roles in non-profit organizations. I already see women moving up the ranks and into CEO roles in small and medium-sized organizations and expect a progression in which we see this trend occur in larger non-profits. As women, I believe it is especially inherent in us to seek a reward from our career that translates to improving lives and addressing challenges negatively impacting our communities. This combined with the opportunity to study philanthropy and non-profit leadership—educational tracks that were not prevalent several decades ago—are seeing more women and women of color taking on fundraising roles. Subsequently, boards are recognizing that leaders with strong fundraising skills are critical to the success of their organizations and that women in philanthropy are often the ideal CEO candidate. Positive changes are in play.
Female donors have been gaining greater attention, especially in the wake of MacKenzie Scott's recent multibillion-dollar philanthropic commitments. Is a new trend underway, and how—if at all—should fundraising programs shift to reach and resonate with female donors?
Asli Ozguz:
This isn't something new as people like Ann Radcliffe were making philanthropic history back in the 1600s, funding American institutions like Harvard University. Whether at the forefront of the donation process or making giving decisions behind the scenes, women have always played an important role in the world of philanthropy. There have been so many instances when on stewardship visits or calls that male donors defer to their female spouse to answer my questions about their reasons for giving. He might be the one signing the check, but his wife made the giving decision.
But as women have greater opportunities to earn and access wealth, I do think it's important for some of us in the field of development and fundraising to adjust. In my personal experience, I've also noticed that my female donors seem less motivated by financial incentives (i.e., tax benefits) than they are by their own personal connection to an organization's mission and impact.
For non-profit organizations that would like to see an increase in giving among female donors, I suggest tailoring appeals to address this segment's motivations. Consider providing volunteer opportunities as part of your cultivation and stewardship programs. Focus your messaging less on what you do and more on whom you impact and what the impact looks like.
Okay, easy question for the end: talk about a leading woman in philanthropy space who inspires you.
Julia Bay Ahmet:
Marlo Thomas! She is an inspiration for the way in which she sustained her father's legacy in his founding of St. Jude's. That alone would have been admirable, but she went further to transform the organization beyond anything her dad could have imagined. St. Jude's has set the standard for successful fundraising. As a result of her role as a spokesperson and fundraiser, she has helped grow St. Jude's from a single hospital to a renowned research center that vastly improves childhood cancer survival rates. Secondly, she has always been an advocate for women, from her pioneering role in "That Girl," where she portrayed an independent young woman, to co-founding the Ms. Foundation for Women with Gloria Steinem and other women seeking to advance female empowerment. Now 83 years old, she has helped pave the way and set the standard for so many of us today.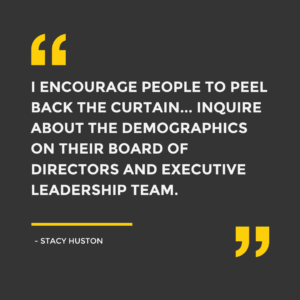 Stacy Huston:
This is difficult! There are several leaders whom I hold in high regard. I recently had the opportunity to work with Sherrilyn Ifill, President and Director-Counsel of the NAACP Legal Defense and Educational Fund, Inc. I rarely get awestruck at SixDegrees, but Sherrilyn Ifill is someone I have long admired for her tireless pursuit of justice and civil rights for black and brown people. For someone on the frontlines of civil rights abuse, she maintains a warmth and persistent fight that is awe inspiring. She is both incredibly intelligent and humble. Sherrilyn has this ability to deliver the brutal truth about how systemic racism is woven into the fabric of our country—a fact that leaves most people feeling defeated—but she does so in a way that inspires people to begin to be the change that is needed. The NAACP Legal Defense Fund's aim is to work continually to make the world a better place, and she is leading the way for structural shifts that need to take place for true equity to occur. It was truly one of the highlights of my career to meet Sherrilyn and support the work they are doing there.
To stay up to date on the latest from Entertain Impact, subscribe to receive our emails and follow us on social media.
SIMILAR BLOGS: