Although questions about the best ways to apply an influencer strategy persist, more brand marketers are convinced that influencer marketing is a must-have part of the mix. Similarly, the philanthropic sector is catching up to this realization.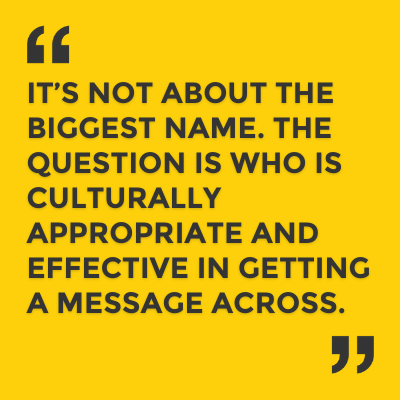 Influencer marketing has become a bona fide marketing channel that commands approximately $500 million in marketing spend and is projected to become a $5-10 billion dollar industry by 2025. Cause influence is a growing field at the intersection of cause and influencer marketing wherein influence—whether wielded by public figures, individual celebrities, or full-scale entertainment properties—is leveraged on behalf of important causes and issues to generate social good. With cause influence, non-profit marketers, CSR managers, and for-profit corporations with purpose-driven campaigns engage influencers not just to sell products and promote programs, but to elevate issues, support a good cause, and mobilize movements. Cause influence is the effect that someone—usually a public figure—has on a broader audience. It may be direct: a public figure directly endorses or lends her platform to elevate a worthy cause. Or it may be indirect. For example, say, Matt Damon participates in a Stella Artois campaign that aims to raise brand affinity for the beverage brand while it also—and importantly for Damon—delivers clean water to people in the developing world. If you haven't already, check out my recent blog post about what cause influence is and how non-profit marketers and philanthropic organizations should integrate it into their communications programs.
As non-profits begin to incorporate cause influence into their communications strategies, it's critical that they have a complete view of their current and aspirational audiences, including an understanding of their audiences' motivations. Naturally, Gen Zs will be motivated for different reasons by different influencers on different media channels than, say, Boomers. To apply cause influence in a social impact campaign, non-profits must first understand how influence works in their respective communities: who holds it and how it's experienced.
Case in Point: The National Trust for Historic Preservation + Nina Simone + Noname
For example, when the National Trust for Historic Preservation recently set out to restore Nina Simone's childhood home, they saw the project as an opportunity to expand their donor base to reach younger and more diverse supporters with whom the non-profit organization didn't yet have a connection. With this strategic goal in mind, we engaged a number of influential artists to help elevate the issue among younger audiences on social media. Sure, the President and CEO of the Trust may have never heard of artist Noname at the time, but millions of young people had, and did when the rapper, poet, and producer posted vociferously about the need to preserve the spaces and stories of people of color in support of the National Trust's campaign to #SaveNinaCrib.
That's the thing with cause influence. It's less about the influencer and more about the actual influence.
Whenever I meet with a team about a new social impact campaign, they often ask, "Who can we get for this campaign?" I gently remind them that's the wrong question. It's not about engaging the biggest name we can. The question is who is actually going to be culturally appropriate and effective in getting a message across at a particular time.
Why Influencer Campaigns Fail
In the for-profit world, one of the biggest reasons that an influencer marketing campaign doesn't succeed is that, too often, the wrong influencer is chosen for the campaign. Senior managers and marketing folk making big (often expensive) decisions typically want a big (and often expensive) name associated with their brand. But is that big-name the right person for the brand? Not always. For an influencer marketing campaign to be effective, there must be alignment between the influencer and the brand. The same holds true in the philanthropic and social justice space.
Criteria to Identify Influencers for Your Social Impact Campaign
At Entertain Impact, when we're working on a social impact campaign and our research team is identifying influencers to engage on behalf of a cause, we know that more important than an influencer's reach is their relationship to the cause and ability to connect with the people we want to impact. We look at:
Reach: Do they reach the target audience? Beyond the total number of people, it's important to consider who exactly is being reached and whether that aligns with the desired supporter profile.
Relevance: Do they have a real relationship to the cause? A cause influencer should have an authentic connection to the issue they're elevating. Whether it's something with which they have first-hand experience or a cause to which they're personally committed.
Resonance: Will audiences take direction from them on this particular issue? A general ability to influence pop culture doesn't always translate to influence on a specific issue. You have to consider a cause influencer's ability to deliver your message in a way that resonates with your target audience.
So Who Can be an Influencer?
For this reason, an influencer can be an Oscar-winning actor, an Insta-famous personality, or a noted soccer player. It really depends on the social impact campaign. When it comes to cause influence, the influencer is really any public figure who has the ability to break through the noise and connect with audiences on behalf of a social cause. It could be a celebrity, artist, athlete, public speaker, community activist…it could even be a dog.
For example, when working with the non-profit Canine Companions for Independence to raise awareness and funds in support of the organization's efforts to train and place free assistance dogs, we engaged a number of influencers. One of the most effective (and enjoyable) influencers we deployed as part of our social impact campaign was Rusty Rodas, a rescue dog who spreads kindness and positivity to his nearly 100K highly engaged Instagram followers.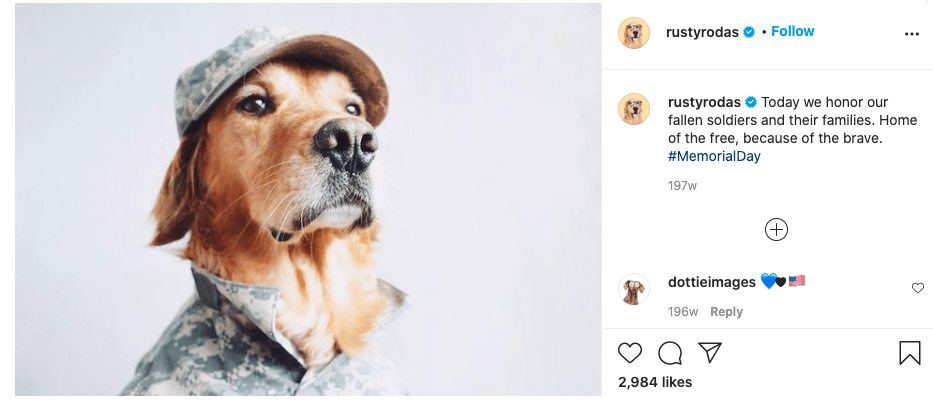 Rusty is a prime example of the type of alignment that non-profit marketers should strive for when seeking influencers for their social impact campaigns. He had a sizable reach to a very engaged audience. His audience loved dogs and was passionate about dogs' ability to make human lives better and happier (and vice versa). And, as a dog whose focus was to share joy, the campaign's messaging fit naturally into Rusty's brand platform and, therefore, resonated with his audience extremely well. It rarely gets better than that. And, as a result, we not only exceeded the Canine Companions for Independence's fundraising goals, but we helped the organization connect to new donors as well. In fact, the campaign saw a 3X increase in new-donor donations!
This is the value of cause influence: it can help you elevate your cause to untapped audiences whose values are aligned with your cause, but who may have never heard of or been moved to engage with your organization. But the right message, delivered by the right person that connects with your intended audience is a powerful combination that's certain to make a difference in any social impact program.
Are you interested in becoming an ambassador for a cause or brand you love? Click here to read a helpful 10-step guide to learn more.
This post was written by Paul M. Katz.
To stay up to date on the latest from Entertain Impact, subscribe to receive our emails and follow us on social media.
SIMILAR BLOGS: