To honor World Day of Social Justice on February 20, we're identifying specific ways we can address social justice issues in our own communities.
First, let's take a second to reflect on what World Day of Social Justice means. To achieve social justice would mean to live in a society where all people feel safe, supported, and valued, free from discrimination due to implicit and explicit biases. Each person would move through life with equitable opportunities and equal rights, including economic, political, civic, and social equality.
As we look at the world and our country on World Day of Social Justice, it's hard not to notice how far that vision is from our reality. That's why we developed the Advocacy Alliance and launched the Sooner is Better voter turnout and get-out-the-vote campaign in 2020: to ensure America gets back on track in working toward, not away from, its ideals.
Why Voting Rights Must Be Protected For All Americans
The American fight for social justice has long been pioneered by our country's most significant leaders who have mobilized pathways for change. Civil rights icon Congressman John Lewis was a firm believer that democratic participation must effect social change:
"The right to vote is precious, almost sacred. It is the most powerful non-violent tool or instrument in a democratic society. We must use it."
Our elected leaders impact our social systems substantially, through the laws they enact and with the cultural tone they set through their rhetoric. Thus, the power to elect leaders ultimately shapes our society and the infrastructure upon which we live. This is why civil rights leaders fought for voting rights tirelessly.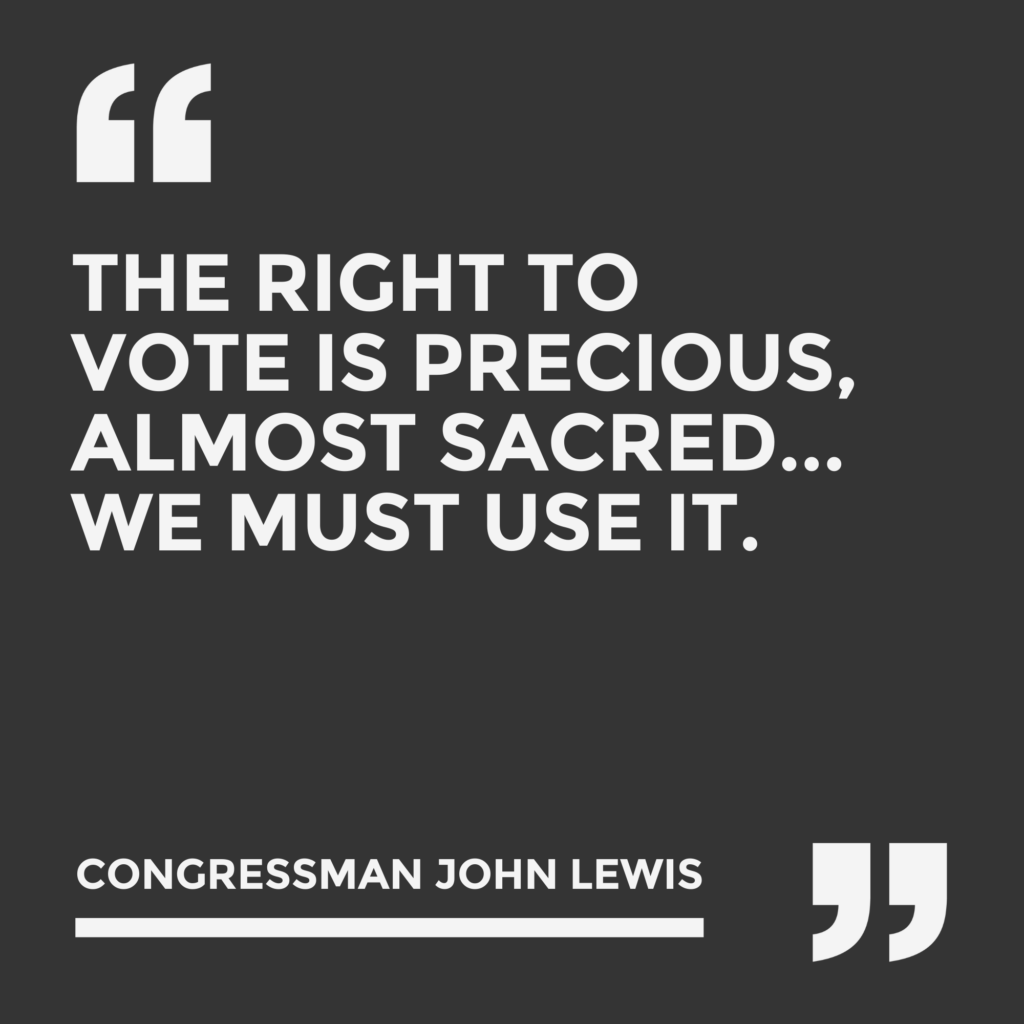 Voting is our most powerful tool for social change in the pursuit of social justice. If this was ever in question, consider the impact of grassroots voter turnout and get-out-the-vote campaigns in states like Georgia. With the help of political advocacy groups like BlackPAC, we were able to turn the Peach State blue for the first time in nearly 30 years. As a result, Congress passed the American Rescue Plan, which achieved the following:
Decreased health care premiums
Provided millions of small businesses emergency grants
Expanded food stamp and unemployment relief for millions of people
Raised the child tax credit
Already, the impact of that single piece of legislation has been huge, decreasing the childhood poverty rate alone by more than 40%, from 15.8% to 11.9%. Less than two years after 2020 saw the most engaged election in US history, we can see the impact of that tremendous civic engagement and voter turnout. In our view, ensuring voter registration and turnout by securing voting rights in 2022 is critical to holding on to the political progress we've made thus far.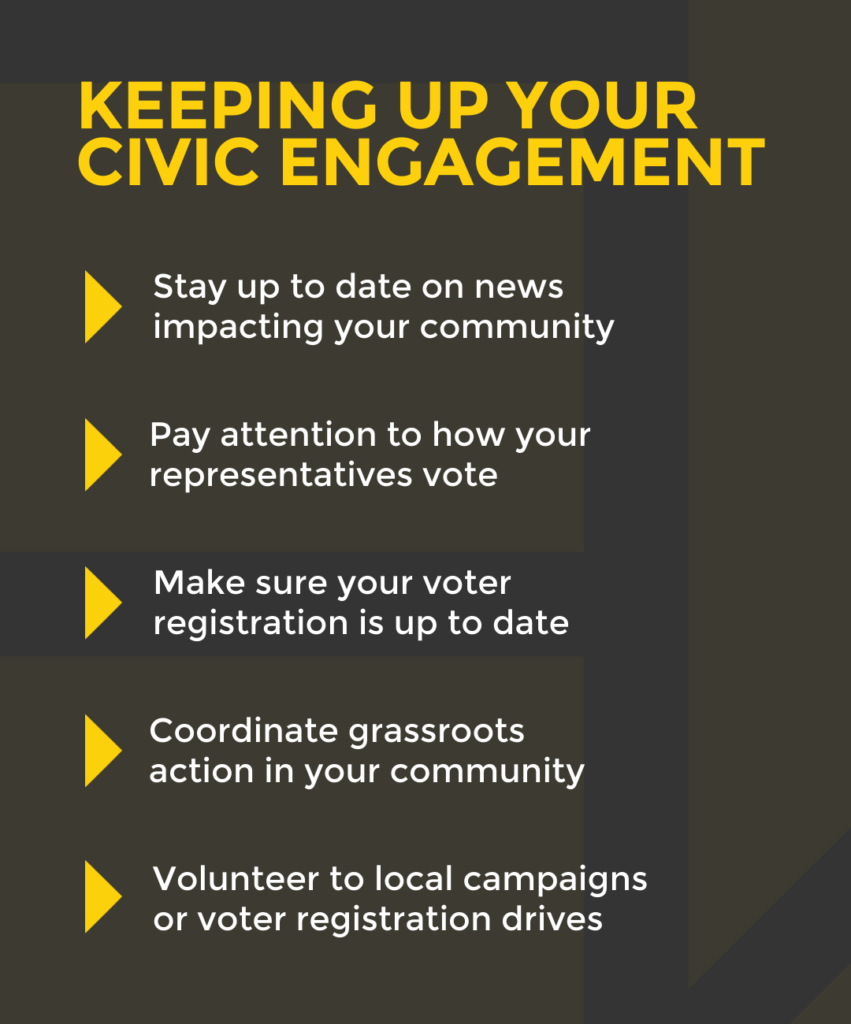 How To Stay Politically Engaged While Voting Rights Are At Risk
The John R. Lewis Voting Rights Advancement Act is currently held up in the Senate. Named after the late activist and congressional representative, the bill would restore necessary voting protections to prevent the discriminatory suppression and disenfranchisement of voters of color. Specifically, it would restore protections once upheld by the Voting Rights Act of 1965, which John Lewis helped pass through his political advocacy work before being elected to congress.
How did we get here? The Voting Rights Act of 1965 was weakened by a 2013 Supreme Court ruling on Shelby County v. Holder. In a 5 to 4 vote, the Court ruled that certain provisions combatting the disenfranchisement of Black Americans were no longer necessary. The ensuing deeds committed by state legislatures across the country in the years since Shelby have revealed that the Court may have been naively optimistic in its view.
Since the 2013 Shelby ruling, nearly 1,000 voting locations have closed in predominantly Black counties. States continue to pass laws that make access to voting difficult for minority populations.
This is why the John Lewis Voting Rights Act is so desperately needed. Because, despite what the Supreme Court may have believed in 2013, we do not live in a post-racial world.
This World Day of Social Justice, we urge you to keep abreast of the important social justice issues affecting our society and find ways to build a more inclusive and representative democracy. To help you along in that effort, here are a few ideas on how you can get politically involved in your community and ensure that your vote works for you:
Become a When We All Vote chapter leader
As an organization that supports voting rights, When We All Vote can help you coordinate grassroots action in your community to build civic participation, register voters, turn out voters, pass legislation to protect voting rights, and fight for filibuster reform. Learn how you can become a chapter leader here.

Volunteer as a poll worker
Election clerks are a crucial part of our democracy and do everything from verifying voter registration to settling disputes about election laws at polling locations. Becoming a poll worker, or volunteering to help at polling locations in other ways, is a great way to enact social change locally. Learn more about volunteering as a poll worker here.

Attend city council meetings
City council meetings are a great place to start if you're still learning about the civic process. They allow you to address important social justice issues that impact your community and also let you communicate directly with local leaders. Visit your city's website for more information about when and where to attend local meetings.
Hold your congressional representatives accountable
See how your representatives have voted in the past and contact them today to urge their support for social justice issues that matter to you now. Follow these letter-writing tips we've laid out to help you craft an impactful message.
For more tips like this, follow @EntertainImpact on Instagram.

For more tips like this, follow @EntertainImpact on Instagram.

For more tips like this, follow @EntertainImpact on Instagram.

For more tips like this, follow @EntertainImpact on Instagram.

For more tips like this, follow @EntertainImpact on Instagram.

For more tips like this, follow @EntertainImpact on Instagram.
Whether Local Or National, Your Political Engagement Has Value
Denying the systemic racism and inequality in our country–believing they're relics of the past–has critical consequences. We must be honest about the state of our society and commit ourselves to its betterment. America is a young nation. While our democracy, culture, and understanding of the world have grown to become more inclusive since Congressman John Lewis crossed the Edmund Pettus Bridge in 1965, we still have progress to make. If voting is our most powerful tool for social change, then we must ensure that every person has the right to vote safely and easily.
Whether you choose to engage in advocacy work locally or nationally, your contributions are valuable and necessary. Only through our collective, persistent efforts will we see our society change for the better. To quote Congressman John Lewis once more:
"Ours is not the struggle of one day, one week, or one year. Ours is not the struggle of one judicial appointment or presidential term. Ours is the struggle of a lifetime, or maybe even many lifetimes, and each one of us in every generation must do our part."
This article was written by Kristine Moffitt and Neda Azarfar.
To stay up to date on the latest from Entertain Impact, subscribe to receive our emails and follow us on social media.
SIMILAR BLOGS: