We love Women's History Month because it creates space for us to spotlight talented leaders with whom we have the honor to work. This year, we're featuring four women across different sectors of the social impact space. In youth development, political advocacy, social enterprise, and historic preservation, each brings her perspective and background to the field in a way that moves the field forward.
In our conversations, we caught some common themes: An intention to serve, an investment in self, and a push to make philanthropy a more diverse, equitable space for all. We hope you find their words and works as inspirational as we do.
How does your unique perspective and experience as a woman shape your day-to-day work in the non-profit space?
Brenda, Christina, and Ebony examine the different ways being a woman has impacted their work in philanthropy.
Brenda Jones, Senior Director of Public Affairs for the National Trust for Historic Preservation:
Being a woman…especially an African American woman, is not easy in the professional space. I think women are undervalued… I was reading an article recently that talked about African American women and how little difference [their] education made in the pay that they [receive] and the respect that they get in institutions. We have an uphill battle to get people to comprehend that [women] are really extremely capable… It's just a part of the dynamic that women are facing. Every woman has to come to grips with how she's going to manage that.
Christina Baal-Owens' background as a first-generation immigrant opened her eyes to the needs of communities like her own.
Christina Baal-Owens, Executive Director of Public Wise:
My experience as a daughter of Asian immigrants and as a parent shapes every aspect of my work. Before coming to Public Wise, I began my career in the labor and immigrant rights movement, where I worked in coalitions to build voting power and expand civic engagement in communities that are often overlooked outside of critical election years.
As a voting rights organization, Public Wise is active in the fight against the wave of voting restriction laws across the country. These laws deliberately target women, particularly women of color, people living in rural communities, immigrants, and low-income individuals.
Ebony Howard, Program Manager at The ELMA Philanthropies:
My perspective as a woman, my perspective as a woman of color, my real-life lived experiences—all of that shapes my work. Because, ultimately, when I'm in rooms where decisions are being made, decisions about where funding is going [and] how it's being allocated, it's up to me to advocate for the rights of, not just women of color, but of all women.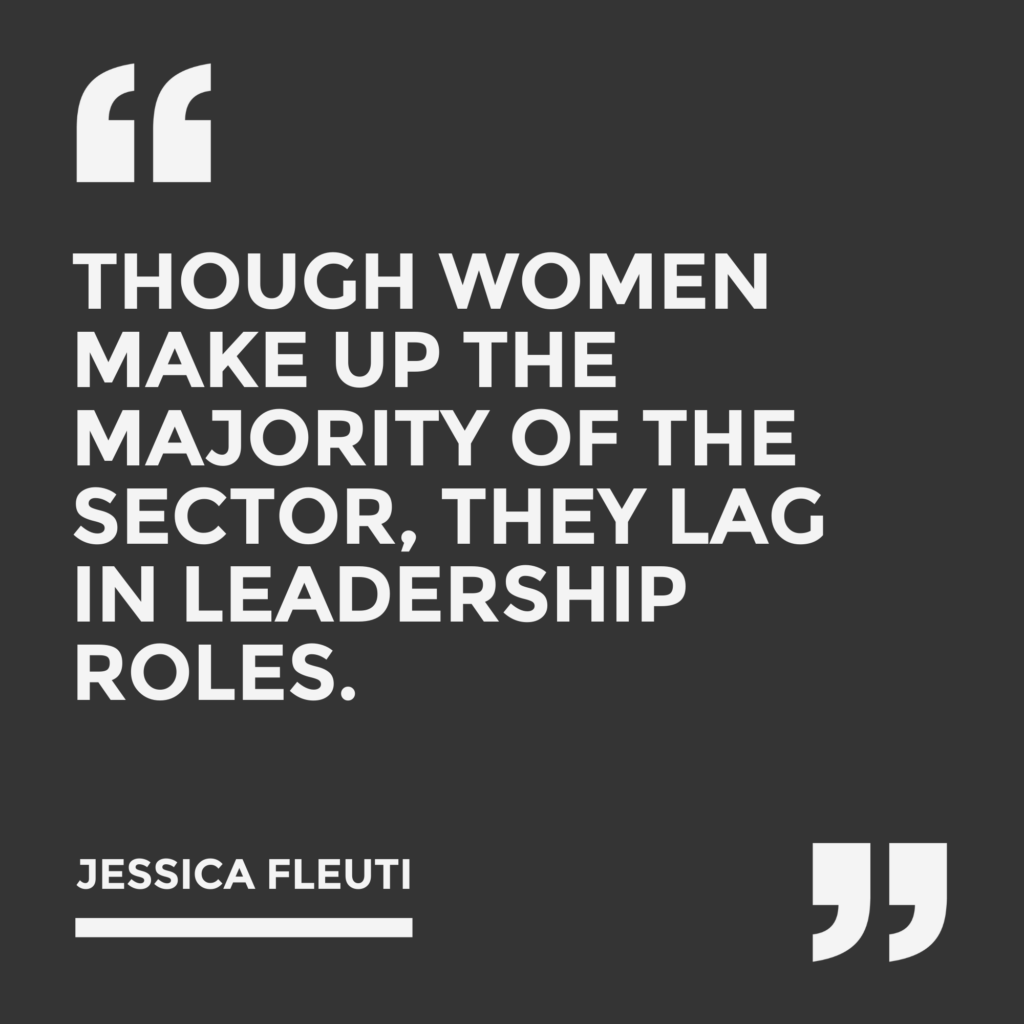 Philanthropy isn't immune from gender-based discrimination and gender bias. What's at stake?
Jessica Fleuti, Director and Curator at the Skoll Foundation:
The same dynamics that plague women entrepreneurs also affect the non-profit sector. Investor bias and risk perception play a role in women–especially women of color–raising less money than their male counterparts. And even though women make up the majority of the sector, they lag in leadership roles. We should dig deeper on what funder expectations, behaviors, and biases might be leading to negative outcomes for women who lead non-profits and the critical programs they direct.
Christina Baal-Owens, Executive Director of Public Wise:
Women of color are the most powerful voting bloc in the United States, and our impact continues to be overlooked. The lack of representation of women, particularly of women of color, in elected office impacts every aspect of American life. I believe that this lack of representation is directly tied to why we cannot pass policies that directly benefit women and families, such as paid leave, protecting reproductive health care access, and a $15 minimum wage. In order to create real change that improves the lives of all people, our government must represent and reflect the gender and racial diversity of the United States.
Even today, women carry a heavier burden than men in managing households, raising children, and caring for family members. Can you speak to this reality and its impact on you as a "working mother?"
We all know that the classic dichotomy of working versus stay-at-home mothers isn't as clean-cut in real life. Both Jessica and Ebony actively discussed their identities as working moms and laid bare the inherent challenges–logistical and emotional–of balancing the responsibilities of motherhood, self-care, and professional growth as women in philanthropy.
Jessica Fleuti, Director and Curator at the Skoll Foundation:
I've got two small kids, one of whom is currently quarantined from pre-school due to a COVID exposure, so this hits home. I have seen many working mothers in my life simply burn out in the last two years. It was already hard enough pre-pandemic to balance motherhood and life administration with full-time work. But COVID and all its trappings, including nearly a year of virtual school, extended daycare closures, and concerns about exposing the elders in our lives… it's been tough. It made it that much clearer just how fragile support systems for mothers are. I have survived the last two years because I am privileged to work for an organization that is flexible, understanding, and wellness-oriented. More importantly, I have an amazing partner who is nothing less than my equal when it comes to kid-raising.
Ebony Howard, Program Manager at The ELMA Philanthropies:
I wanted to lead by example. I didn't want to be the parent that said, "Do as I say, not as I do." How could I advocate for my children to pursue their dreams if I first didn't choose to pursue my own dreams? So, in choosing to make these sacrifices, I had real conversations and discussions with my children… And, although they may not have fully understood at the time, now they do understand. Everything is about sacrifice at some point. The reality is you just have to prioritize what's worth sacrificing for.
What are your thoughts on gender representation regarding who gets a seat at the table?
Issues of gender representation and diversity in philanthropy extend beyond job titles and compensation. All of the women were mindful of how they, in their positions of power within the non-profit sector, could bring about greater balance and equity in society. Each is intentional about how she uses her power on behalf of marginalized communities.
Jessica Fleuti, Director and Curator at the Skoll Foundation:
I firmly believe that having women not only represented but heard is incredibly important to advancing transformative change. This reminds me of a quote by the awe-inspiring Shirley Chisholm, "If they don't give you a seat at the table, bring a folding chair." It's a great rallying call for women to keep showing up, even if they're not expected in these spaces and conversations. But I'm heartened by the fact that the "they" in that quote is also starting to change.
In my role curating convenings for the Skoll Foundation, I find myself an agenda-setter (and yes, gatekeeper) for thought leadership in the philanthropy and global development sector. I take that responsibility seriously and want to ensure that women–especially women from marginalized backgrounds–have a seat around our table at the Skoll Foundation… The future is women building their own tables, setting the menu, and inviting others in.
Brenda Jones, Senior Director of Public Affairs for the National Trust for Historic Preservation:
There are lots of gaps in the American story… Too many stories to tell that we haven't heard before about all kinds of American people. About how women contributed to every facet of American life. How African Americans, Asian Americas, Hawaiian Americans, immigrants—all kinds of people—worked together to build the nation we live in today. Each and every community has made powerful and significant contributions.
That hasn't been the way the American story is told, but I think it's something we are committed to trying to tell. To put before people the stories that made this nation great, and made it what it is. And, maybe to even retell some of the stories we know so well in ways that include people who were there and who made an impact and a contribution.
[Preservation] takes you inside our history in ways that nothing else really does. And that is the real power of the work that we do in preservation. It allows Americans, or anyone who comes into these spaces, to experience history in the most profound way we have available to us.
How does gender representation impact our democracy, and what do you see for the future of gender parity in politics?
Christina Baal-Owens, Executive Director of Public Wise:
We are in a once-in-a-generation fight to protect our democracy and ensure that our political system works for all of us, and I believe we can only be successful if we approach it from an intersectional lens.
Women are a powerful voting bloc that make and break elections. We make up 51% of the population, the majority of the electorate, and 41% are the sole or primary breadwinners in their families, but [women] make up only 27% of Congress. Many of the political organizations, companies, and non-profits leading the fight for gender equality and parity do not authentically live those values. We have made progress, but we have significantly more work to do before our elected officials are representative of the makeup of this country.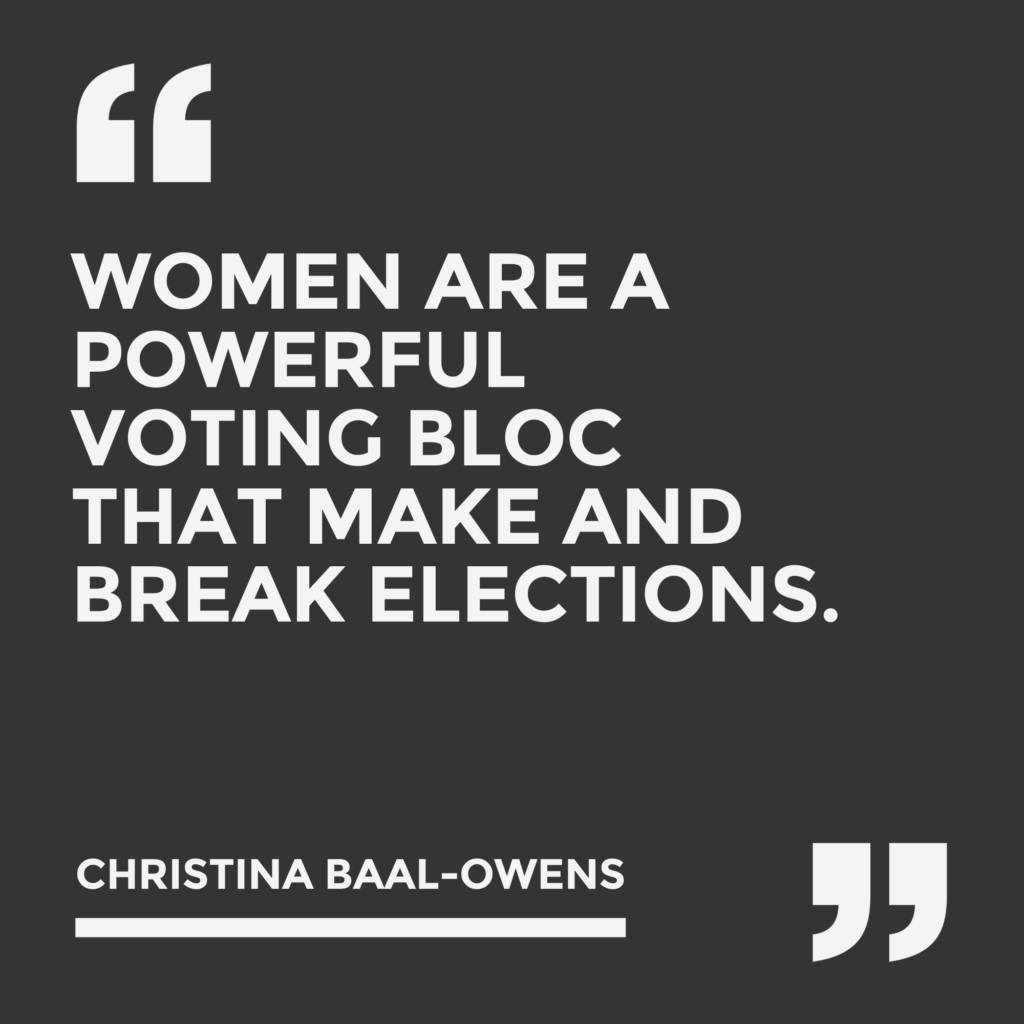 How do you ensure that your work promotes greater equity for women and others?
Jessica, Director and Curator at the Skoll Foundation:
The short answer is: with intention. Whether it's a single fireside chat with two speakers or the Skoll World Forum with more than 100 speakers across dozens of sessions, each is an opportunity. [D]iversity makes for more engaging programming, too. There's nothing more boring than a group of people who are all coming from a similar place talking about how they all agree. With each session, we consider gender balance alongside geographic diversity, sector/role diversity, and balancing traditional ideas of "expertise" with lived experience. We take this into consideration with each new speaker invitation we draft, and also revisit the overall program frequently to make sure we're on course. You can expect that more than 60% of the speakers at this year's Skoll World Forum will be women or nonbinary folks and 60% BIPOC leaders. Join us!
Brenda Jones, Senior Director of Public Affairs for the National Trust for Historic Preservation:
As a person who's involved in the African American Cultural Heritage Action Fund, the work that Brent Leggs and his team is doing is deeply edifying to me. To have the opportunity to learn, to see some of these spaces… It is amazing for me to have that experience. [The Action Fund] is actively defending my community and helping reverse erasure.
African American history has literally been sanitized from the American story. Without African Americans, this country would not be the same, and it would not be as democratic as it is today. Though we have a ways to go, it is African Americans that have really led the way to expanding democracy in our society, and that has benefited everybody else more than it has us. So, it really is edifying to be a part of something that is verifying this contribution and is reviving some of these stories that people tried to stamp out.
How do you feel about moments like Women's History Month and International Women's Day?
While all the women we spoke with agreed on the importance of using every opportunity to elevate and address the perspectives, voices, and needs of other women, there were conflicting views about moments like Women's History Month and International Women's Day.
Ebony Howard, Program Manager at The ELMA Philanthropies:
Women are often deemed super, super woman, super women, [like] we can do all things. And the truth of the matter is that we don't always want to be super. The expectations for women to have it all, be it all, do it all are so much higher [than they are for men]. That's not always what we want… But yes, we do need to be celebrated, we deserve to be celebrated, and we deserve so much more than that. We deserve to have equity. We deserve to have equality.
Christina Baal-Owens, Executive Director of Public Wise:
Events like Women's History Month and International Women's Day can be helpful, but often paint women as a monolith. Women's contributions, particularly the contributions of Black, Indigenous, and other women of color and trans women, need to be recognized and studied year-round, not just in the month of March. The version of "women's history" that our children are taught in schools is whitewashed and the contributions of women of color continue to be minimized and erased.
While celebrating International Women's Day and Women's History Month are important for uplifting critical work in the movement, we risk giving off the appearance that we have already achieved gender equality. In reality, there is so much work that needs to be done. This is especially true in the United States, where birthing people's right to control their own bodies is under threat and where Congress is incapable of passing policies that directly improve the lives of women and families. I view these moments not as a chance for celebration, but as an opportunity to recognize the work we have done and how much farther we have to go to reach equality for all women.
We are so grateful for the opportunity to work with and learn from these women and appreciate the time they took to share their perspectives with us. For additional insights and stories from other women in philanthropy, read our 2021 Women's History Month profile.
Neda Azarfar, Gina Graves, and Marissa Montañez contributed to this article.
To stay up to date on the latest from Entertain Impact, subscribe to receive our emails and follow us on social media.
SIMILAR BLOGS: