New York, NY – March 28, 2022 – Bangsokol: A Requiem for Cambodia, composed by internationally acclaimed Cambodian composer and survivor of the Khmer Rouge, Him Sophy, is the first major symphonic work that addresses the traumas of the Cambodian genocide of the late 1970s. The piece places the musical ritual of a Bangsokol – a traditional Khmer ceremony that accompanies Cambodian Buddhist funeral rites – within the form of a Western requiem that culminates with a plea to recognize impermanence as the only path to peace. As an act of cultural renewal, Bangsokol speaks to the role of the arts as a means for healing and reconciliation and seeks to inspire a new generation of artistic expression.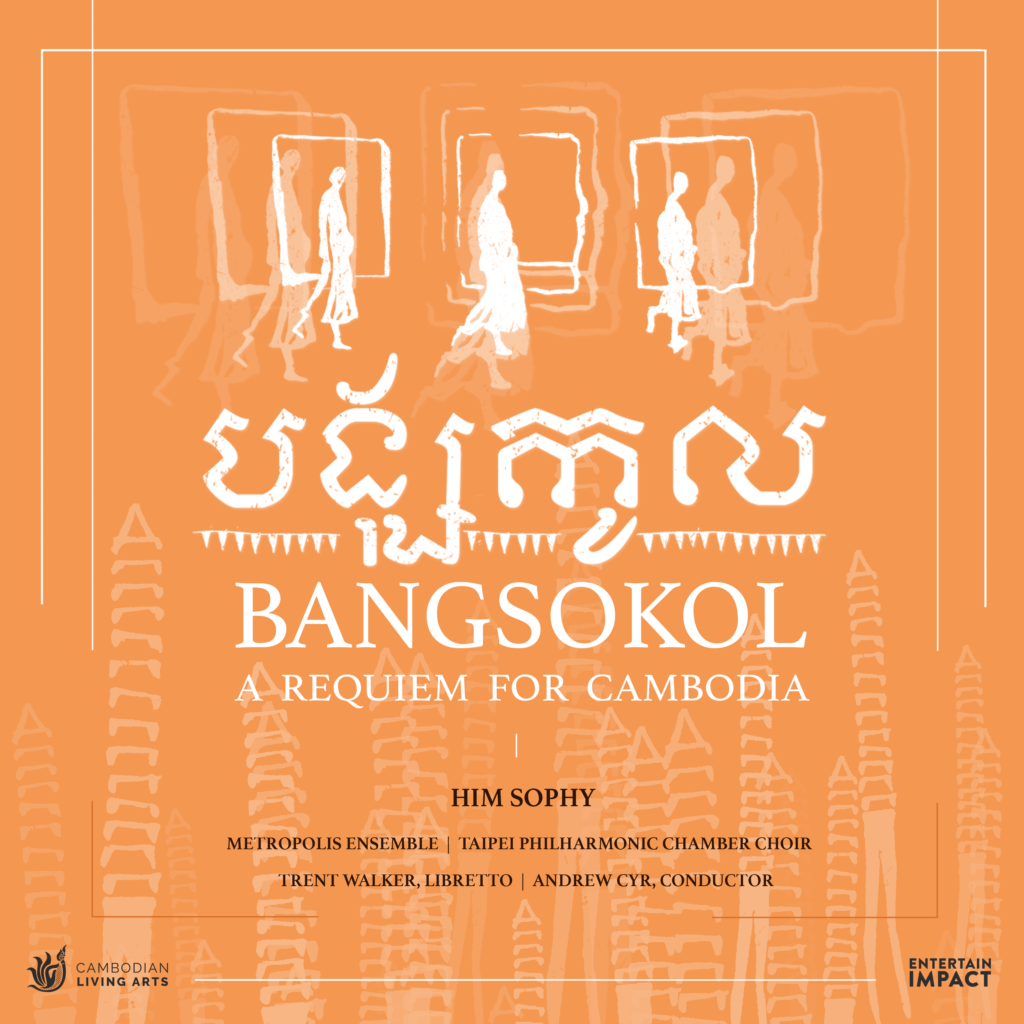 Him Sophy worked in collaboration with librettist Trent Walker. Recorded at National Sawdust in Brooklyn, NY, the album features the Metropolis Ensemble and the Taipei Philharmonic Chamber Choir, with Metropolis Ensemble Artistic Director Andrew Cyr conducting.
"This album stands on its own as an extraordinary musical experience that brings cultures and people together while serving as a model for how art can be a powerful vehicle for reconciliation in post-conflict societies," says Paul M. Katz, CEO of Entertain Impact. Our agency utilizes popular culture for social change. So, working with Him Sophy and Phloeun Prim of Cambodian Living Arts, the commissioning organization, to release an album of such importance feels particularly relevant in today's world where conflict is rampant."
The act of "Bangsokol" within the Buddhist funeral ritual represents the removal of a cloth, which signifies transmigration into the next life, where spirits of the dead find rest and ultimate rebirth. This piece mourns the nearly two million forgotten souls who perished under the Khmer Rouge, many of whom went missing during the genocide and whose bodies were never found. These victims were denied this sacred burial ritual, leaving their spiritual journeys unfinished. The album will be released in the U.S on May 20, 2022. This date commemorates Cambodia's National Day of Remembrance and coincides with the lead-up to Memorial Day in the U.S. to honor all lost souls and provide hope for the future.
Bangsokol: A Requiem for Cambodia begins in the heavens, with celestial music and an invocation to the gods to listen to the "words of the sage" – the Buddha's teachings. Moving down to Earth and witnessing a funeral in the Cambodian countryside, it is soon interrupted by traumatic memories of the Khmer Rouge and the appearance of 'hungry ghosts' wandering the lands in the second movement.
In the third movement, we experience the acceptance of impermanence and the path to peace, as the Bangsokol ceremony itself gives solace to the dead and helps the living to heal. Prologue and epilogue ornately frame this journey by recalling the presence of the wandering spirits and marking a sense of joy and hope for a peaceful future, respectively.
"When I composed the requiem," Him Sophy shared, "I relived the feelings I had during the Khmer Rouge times. It was Hell on Earth. The requiem needs to be experienced around the world so that everyone understands that tragedy is a shared experience."
"Bangsokol shows the resilience of Cambodian people," adds Phloeun Prim (Executive Director, Cambodian Living Arts), "and that artistry remains alive despite genocide and an attempt to eradicate our culture. Today, we still see conflict in the world and during the pandemic, many people have passed away on their own, without a proper burial. This piece conveys a deep message of remembrance for those who have passed."
Bangsokol: A Requiem for Cambodia was initially commissioned by Cambodian Living Arts (CLA), an organization that supports the next generation of artists and cultural practitioners in Cambodia's vibrant arts sector, as a stunning multimedia piece featuring visual projections from Oscar-nominated film director Rithy Panh (The Missing Picture"). Bangsokol premiered in December 2017 at Arts Centre Melbourne as part of an international tour to ArtsEmerson, Brooklyn Academy of Music and Cité de la Musique, before making its homecoming performance in Phnom Penh in November 2019. Both Him Sophy and Rithy Panh are survivors of the Khmer Rouge regime. Bangskol represents their first collaboration as contemporaries who are now at the forefront of Cambodia's cultural renaissance.

About: Him Sophy
Trained at the Moscow Conservatory of Music and the Royal University of Fine Arts in Phnom Penh, Dr. Him Sophy brings a unique perspective to Bangsokol. His previous works, including the acclaimed rock opera Where Elephants Weep, have demonstrated an unparalleled facility for bringing Western and Khmer musical worlds into an intimate conversation. He combines a Western chamber orchestra and chorus with Khmer instrumentalists and vocalists. The traditional Khmer musical forms represented include several endangered forms of funeral music, such as kong skor, smot, and pin peat.
About: Cambodian Living Arts
Cambodian Living Arts (CLA) is proud to have commissioned Bangsokol, as the piece encapsulates the organization's 20+ years of work as a catalyst in Cambodia's arts sector. Bangsokol deeply reflects the organization's belief that arts are at the heart of any vital society.
Founded in 1998 by genocide survivor, musician, and peace advocate Arn CHORN-POND, they initially focused on preserving endangered performing art forms and rituals. After the Khmer Rouge regime, 90% of Cambodia's artists did not survive, and arts that had been transmitted between generations were in danger of being lost forever.
About: Entertain Impact
Entertain Impact is a social impact agency founded in 2005 by veteran music industry executive Paul M. Katz (Jive Records and Zomba Music) with a mission to amplify the role of popular culture, music, and art to positively impact our society. Their work spans from international health campaigns for the World Health Organization, Rotary, and ALIMA, to putting music back in schools for the GRAMMY Music Education Coalition, youth development through music via ELMA Music Foundation U.S.'s Music & Youth Development Alliance, to telling the history of Black preservation with Nina Simone's childhood home with the African American Cultural Heritage Action Fund, an advocacy campaign to drive voter turnout in the Georgia Senate runoff elections and supporting the Arts as a methodology for healing trauma in post-conflict societies via their alliance with the Cambodia Living Arts foundation.
Media inquiries:
Paula Amato
[email protected]
212.206.1598