Filling the role of graphic designer is just one of the many things nonprofit marketers have to do as part of their responsibilities. But limited resources, time, and experience make it challenging to create visually compelling content that reaches your audience.
We asked four designers with experience working on social impact campaigns to share graphic design tips for nonprofit marketers. They give advice for overcoming common issues like limited resources, brand guidelines, and a lack of photo and video assets.
The designers also share what nonprofit marketers can do—and not do—when working with professional designers on their social impact campaigns.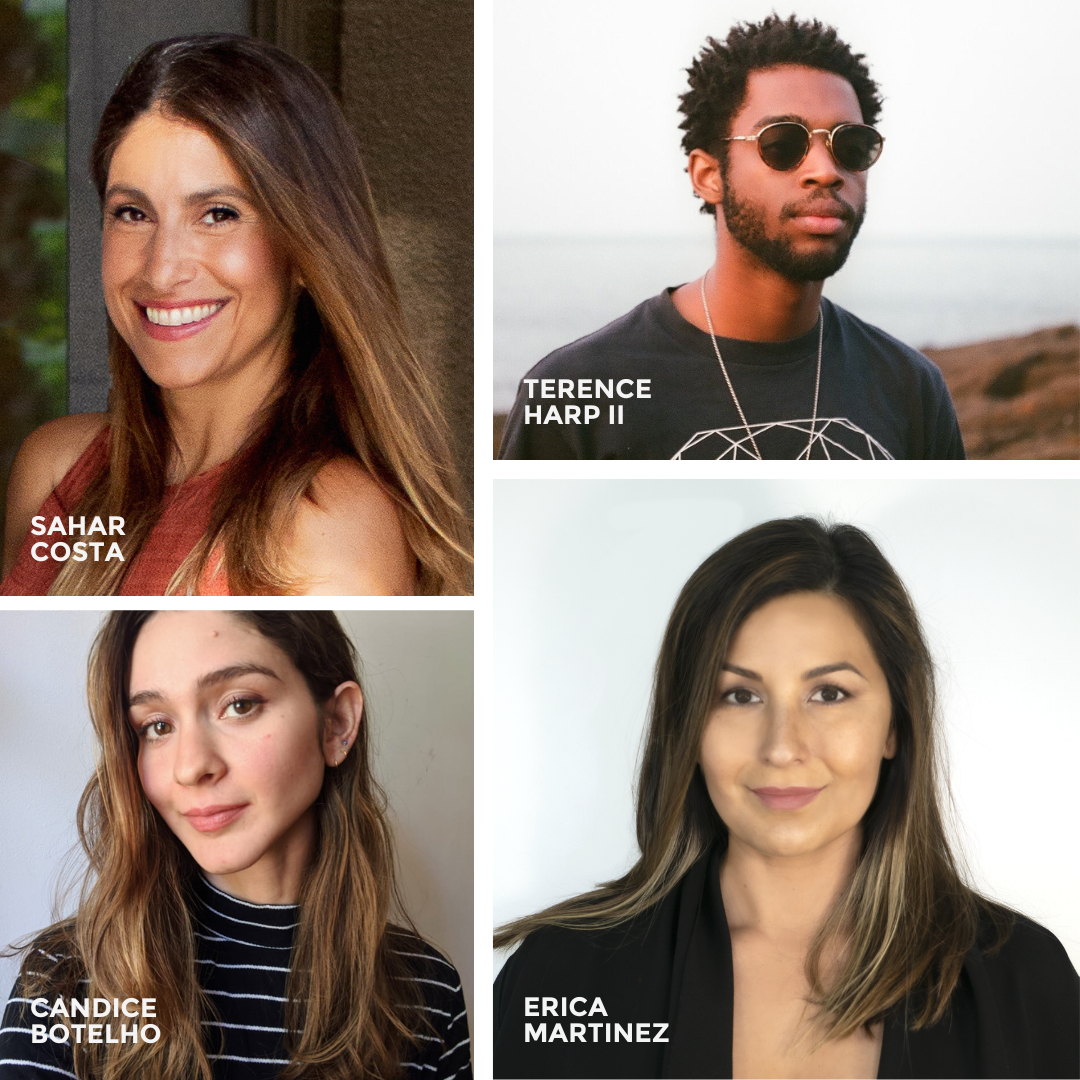 What graphic design tips would you give nonprofit marketers creating their own graphics? Are there any free design tools and resources you suggest?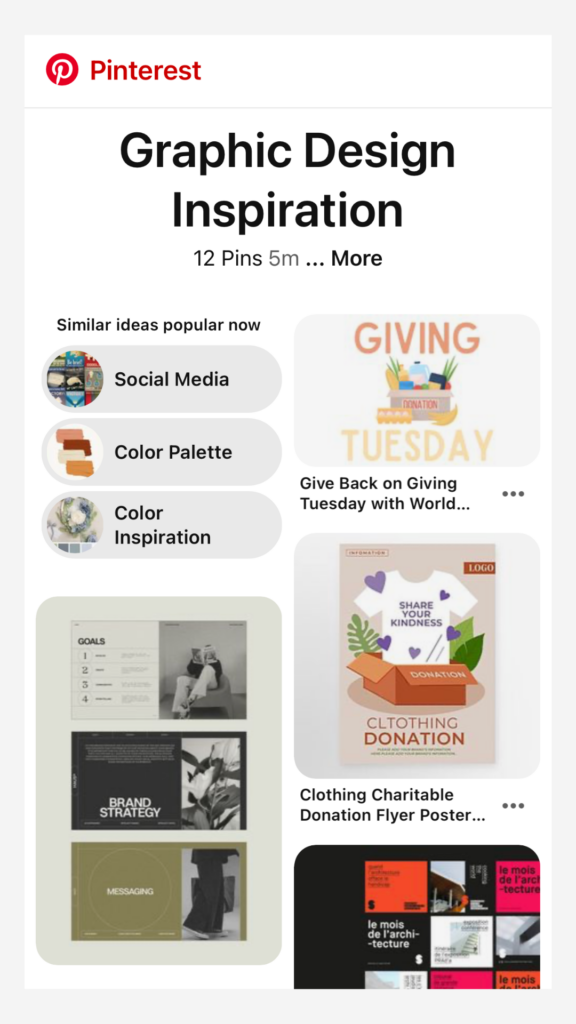 Erica and Sahar share ways nonprofit marketers can take advantage of free and low-cost design resources.
Erica Martinez, Creative Director
Pinterest is a great place to start for inspiration. Create a mood board in a program you are familiar with, like PowerPoint, and include color palettes you like, designs that stand out to you, and various examples of typography. This will be your reference throughout the duration of the project.
Sahar Costa, Senior Graphic Designer
To start, if you don't have design programs, Canva is a free program with templates, layouts, fonts, and imagery. Even if you don't use one of their templates, you can use it for inspiration and ideas.
For imagery, use iStock, which has cheaper subscriptions with many illustrations and creative imagery. There are websites that offer free photography, and depending on your campaign, you can either use the imagery directly or to create mood boards.
It's tempting to create content that matches the latest graphic design trend. How can nonprofits create timely and compelling graphics while adhering to brand guidelines?
Terence Harp II, Graphic Designer
By making more well-thought-out and flexible brand guidelines. Over the last few years, it seems as though brands have become far too rigid in adherence to brand guidelines that weren't designed with emerging technologies, shifting optimization standards, or even increasing years in the market in mind. While brand guidelines are important for the structure of a brand, allowing space and time for experimentation or growth are what allows the brand to be able to thrive in the social media sphere.
Candice Botelho, Senior Motion Designer
Invest in animated graphics and time-based media. We live in a world where everything is constantly and rapidly moving, so your graphics have to have room for versatility, variability over time (a short amount of time), and interaction. Also, creating templates for social channels will serve to reinforce the visual language characteristic of your organization.
Many nonprofit marketers rely on stock photo sites or field staff for photos. How can they use these images effectively to ensure cohesion across the brand?
Erica Martinez, Creative Director
Develop branding guidelines specifically for photography. This can be a section in the larger brand book or a one-off if you don't have brand guidelines for your nonprofit. This document should provide guidance on how to shoot, crop images, use color, and use filters to help create continuity across all photography.
Additionally, a visual branding key should be created that outlines the style, tone, and quality of the images that should be used. It is important to choose images that complement the style of the brand. These images should be used consistently across a range of marketing channels, including social media, print materials, and websites, and must be of high quality. To maintain a cohesive brand identity, staff and volunteers should be encouraged to capture authentic photos that can be used for future marketing efforts.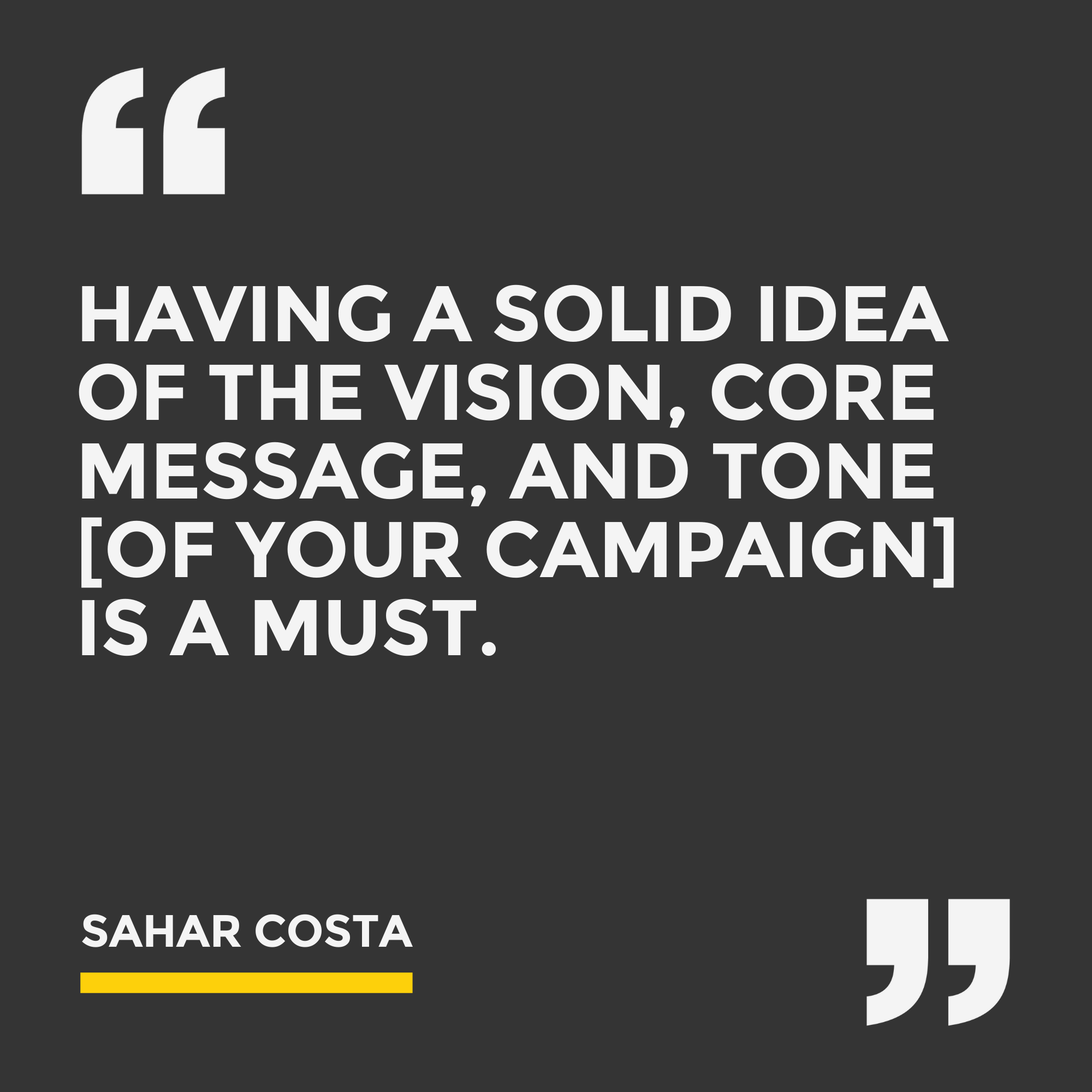 Candice Botelho, Senior Motion Designer
It can be effective if you define, first, what you want people to see in those images… And defining a few things like color palette, if the images have people in them, what the point of view you want to work with is, the exposure, and light treatment of the images, etc., will help create a thread, a story behind the image choices.
Photos will always be important for nonprofit marketers creating graphics, but it's no secret that social platforms prioritize video. How can nonprofit marketers use photo- or text-based graphics to create short-form videos?
Terence Harp II, Graphic Designer
One way that non-profits can utilize static assets is by experimenting more with innovative video art direction. Trends now favor the use of multilayered and even collaged video (he shared this Nike x NYC Parks collaboration as an example), introducing static photography and text are simple ways of adding interest to simple video clips.
Sahar Costa, Senior Graphic Designer
Again, Canva is a great place to create print, social, and video graphics if you don't have Adobe Creative applications. I usually create Mp4 GIFs in Photoshop. However, Canva is a free resource.
Watch the video to see the step-by-step process for creating a GIF or video using animated text in Canva.
What advice would you give to nonprofit marketers looking to make the most of their time and budget when collaborating with a graphic designer for their social impact campaign?
Erica and Sahar emphasize the need to come prepared with brand guidelines, visual assets, key messages, and other reference materials that can be shared with the creative team working on a nonprofit's social impact campaign.
Erica Martinez, Creative Director
Assuming brand guidelines are already in place, I advise working with a brand designer initially to establish the overall look and feel of your social impact campaign. Although they may not design specific elements such as websites or videos, they can create your campaign's overarching identity to be used across all platforms.
Your designer can establish the basic core brand elements of the campaign. This includes developing a color palette, selecting fonts, creating a hierarchy for how your type should be laid out (i.e. headlines, sub-head, body copy, and call-outs) so there is consistency across your marketing collateral. These elements create the foundation for your nonprofit campaign, acting as a guide for all visual communications. They can also create supporting graphics and source photography to further enhance the campaign visuals.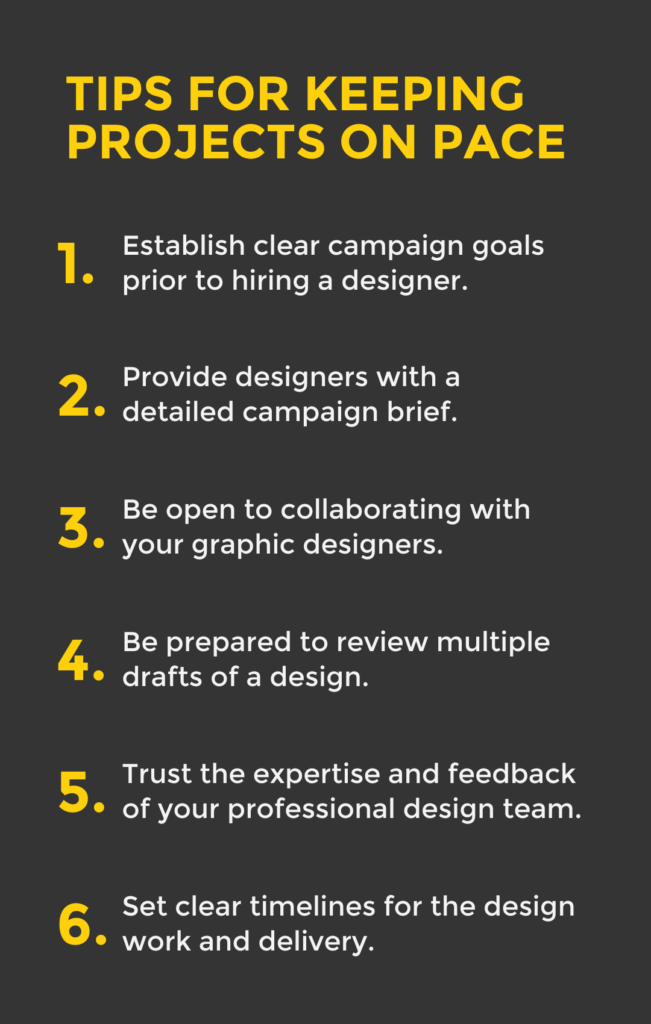 Sahar Costa, Senior Graphic Designer
Having a solid idea of the vision, core message, and tone is a must. Having copy ready is a huge plus. Share relevant campaigns, maybe a powerful speech, a video from a past event, client testimonials—things that might inspire the creative direction a designer may take.
If you have examples of past campaigns or things that others in the space have done, that's also great to share upfront… It might mean a bit more work on your part, but anything to help a designer go straight into designing will be to your advantage in the long run.
Terence shares steps nonprofit marketers can take when working with a graphic designer to keep projects on pace.
Terence Harp II, Graphic Designer
Working with larger client teams, there can quickly be too many voices in the room. While these voices are all important, having them chime in at different times with project-altering and conflicting feedback creates needless bottlenecks that end up costing everybody. My recommendation is for the client team to consolidate all of their team's feedback before sending it to the designer. I would rather wait an extra day to receive everything consolidated and considered at one time. I add "considered" because conflicts amongst the feedback should be sorted out amongst the team's decision-makers first. Keeping things consolidated helps reduce bottlenecks and time-consuming back and forth
To stay up to date on the latest from Entertain Impact, subscribe to receive our emails and follow us on social media.
SIMILAR BLOGS: