Challenge
When Dakar-based humanitarian NGO ALIMA (the Alliance for International Medical Action) established a US presence, it did so for one reason: to increase support for the non-profit's research, treatment, and capacity-building work across Sub-Saharan Africa.
But before ALIMA US could be effective at fundraising among American donors, the NGO needed to build a solid marketing foundation. This included culturally appropriate messaging, a social media strategy, marketing operational procedures to coordinate communications work across international offices, and a cross-cultural awareness campaign to introduce the organization and its work.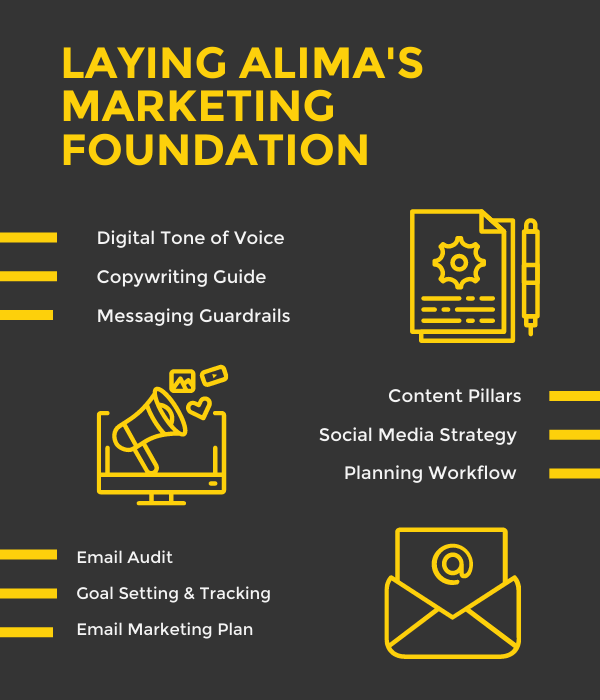 Solution
Through the course of a year, Entertain Impact worked with the ALIMA US team to build its marketing capacity through training sessions, provided transcreation services to strategize a cross-cultural awareness campaign that would resonate with audiences in Europe, Africa, and the US, and helped execute the campaign digitally to reach and resonate with an American audience.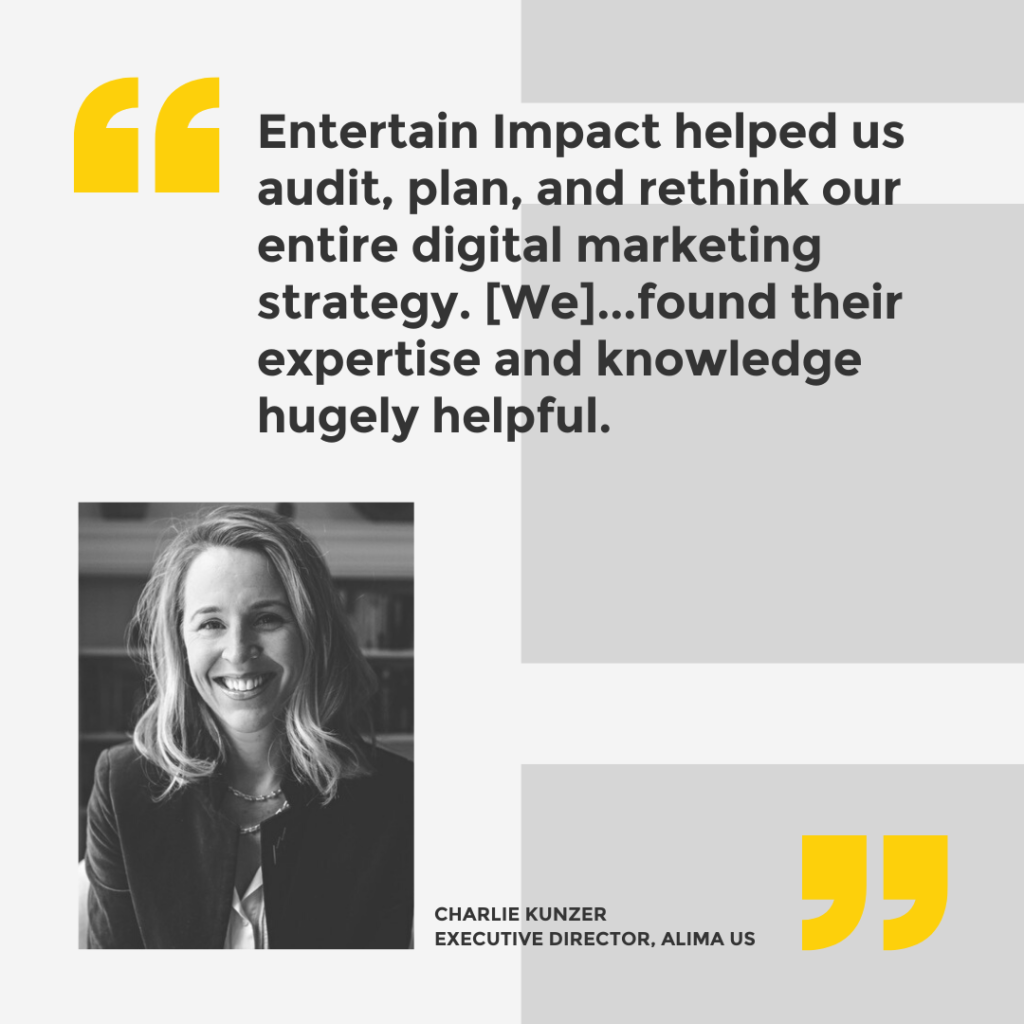 We completed a Needs Assessment to identify ALIMA US' communications gaps, and determined our first course of action: marketing training. Entertain Impact led a series of marketing training sessions dedicated to elevating the ALIMA team's digital marketing skills with a priority on social media and email marketing.
Concurrently, we met with the communications team to develop solutions to the growing NGO's top operational challenges, such as language translations, content development workflows, and reporting.
One issue we identified early on was that NGO ALIMA's translations didn't account for cultural differences. As a result, the non-profit's translated messages often felt stiff and disconnected to US audiences. The NGO needed a transcreation strategy. As part of that, we developed a digital tone of voice for the ALIMA US marketing team to not only ensure translation integrity, but for true transcreation, so that communications would resonate to evoke similar feelings across cross-cultural audiences.
We also realized that NGO ALIMA's marketing team had limited ability to anticipate creative assets, which often came from on-the-ground healthcare staff. Working collaboratively, we developed a social media content strategy that accounted for the marketing team's realities regarding knowable versus unknowable content. We devised creative ways ALIMA could repurpose existing assets, allowing the team to share the organization's impactful stories in multiple ways while simultaneously equipping them with bankable content on which they could rely.
While Entertain Impact helped lay ALIMA US' marketing foundation, we helped the NGO's leadership team select a creative agency to set the visual identity for the cross-cultural awareness and fundraising campaign. After months of brainstorming and concepting, France-based Social Club came up with a campaign identity based entirely on bespoke artwork painted and animated by Senegalese-French artist Lossapardo. Inspired by NGO ALIMA's humanitarian work and wanting to use his art for social good, Lossapardo created a series to tell the story of a fictional ALIMA doctor: his history, journey and coming of age.
Storyboards underway, Entertain Impact then focused on the transcreation strategy for the non-profit campaign's cross-cultural adaptation and rollout. As part of the transcreation process, we stayed true to NGO ALIMA's brand and Lossapardo's creative vision while remaining attuned to cultural differences as we developed campaign messaging and assets for US audiences.

We landed on a campaign tagline that translated well across languages and captured the essence of NGO ALIMA's message of empowerment: we are the solution. We prepared scripts for the campaign's videos, crafted culturally adapted messages, wrote advertising copy, and produced static, animated, and video assets using Lossapardo's artwork for the US rollout of the #WeAreTheSolution campaign.
Once Lossapardo completed the animated video for the We Are The Solution campaign, we brought on Nigerian voiceover artist Blessyn Kure to narrate the story.
In the video, we meet an African boy grieving the loss of a caregiver due to inadequate access to healthcare. The experience leads him on a transformative journey toward medicine where, ultimately, he grows up to become a doctor, serving communities similar to his own. The video ends with a compilation of ALIMA's real-life healthcare workers, who personify the banner #WeAreTheSolution, and invites viewers to support the medical NGO's humanitarian work.
As our designers put the finishing touches on the We Are The Solution campaign creative, Entertain Impact's cause influence strategists and campaign managers developed a detailed launch and rollout plan, plotting out PR, social media content, donor emails, a cause influence strategy, and paid media amplification to promote #WeAreTheSolution.
Impact
As part of our cause influence strategy, Entertain Impact engaged 9 prominent micro-influencers and figures in the medical field to share #WeAreTheSolution and create Instagram Stories dedicated to talking about ALIMA's humanitarian work. Targeting Americans with an interest in humanitarianism, healthcare, and sustainability, ALIMA US' #WeAreTheSolution campaign reached approximately 1M Americans. The video was viewed over 140,000 times, and more than 20,000 people visited ALIMA's donation pages as a result of the campaign. In addition, it significantly increased ALIMA US' marketing audience. ALIMA US' Facebook audience nearly doubled, and its Instagram presence grew more than 20%, setting NGO ALIMA up for future success and organic growth.
"Entertain Impact helped us audit, plan, and rethink our entire digital marketing strategy. Their team was strategic, thoughtful, knowledgeable, and committed to helping us articulate our vision and messaging to our audience. They were invaluable assistance in planning, launching, and managing a global digital campaign, and the ALIMA team really enjoyed working with them and found their expertise and knowledge hugely helpful. ALIMA USA's digital marketing program is greatly enhanced by our time working with them," Charlie Kunzer, Executive Director of ALIMA US.

See More Work